I won't go into too much detail here, except to just present these charts as data for each individual league. I've gone into detail about both the CHL and AHL in the past.
I should have posted these way back when the season started.
Outside of the NHL, where three games in four nights, or four games in six games, or some kind of combination along those lines create the extent of games on consecutive nights, the AHL and CHL leagues schedule three games on three consecutive nights.
In some cases, it's not even a full 24 hours between that second game and third game. The second game often occurs on a Saturday, with an occasional game in the afternoon. This is more prevalent at the CHL level rather than the professional leagues, however, it's been known to happen.
For the purposes here, I'm going to explain what the numbers represent and let the data itself paint a picture.
OHL
I'll use the OHL as an example.
Each table contains the number of 3-in-3 sets, and then all the sets where games are exclusively on the road.
The columns Gm1 through to Gm3 signify the amount of games the listed team plays against an opponent that is Game 1, 2 or 3 of a 3-in-3 set.
Once again, The Sault Ste. Marie Greyhounds lead the Ontario Hockey League with 14 games against an opponent playing Game 3 of a 3-in-3 set.
Last season, The 'Hounds led the OHL with 16 games versus a team in a Game 3, posting a sterling record of 15-0-1, earning 31 points as a result.
The Sault also benefits from having one 3-in-3 set all season, that occurring in early February.
Before going through all leagues tables, I put together a .PDF doc that breaks down the entire OHL schedule and all teams three games sets. Just follow the link here:
I've also calculated the amount of rested versus tired sets for each team, taken directly from the logic I've used at the NHL level.
A Tired team is one playing the second game on consecutive nights.
A Rested team has not played the previous night but facing a Tired team as per definition above.
Since the CHL can include three games on consecutive nights, it's possible that a team could be 'tired' in Game 2 and 3 of a 3-in-3 game set.
In the OHL, Mississauga leads with 18 rested games, while Sarnia and North Bay lead with 17 as a tired team.
The chart is listed below.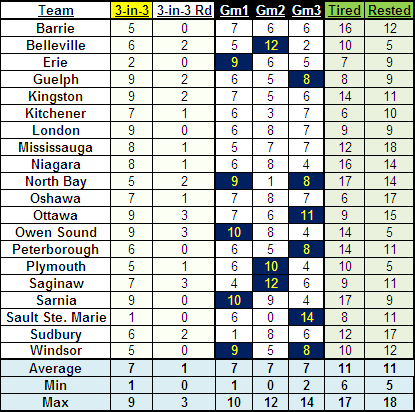 WHL
Due to the distance between member clubs, there are far less 3-in-3 sets than the more clumped together OHL. Western Hockey league teams average three (3) sets, however, unlike every other CHL sister league, there are teams that don't ever play one set.
Brandon, Calgary, Red Deer and Victoria do not play any 3-in-3 sets. There's also more uniformity in the amount of games played versus an opponent in Games 1, 2 or 3 in a 3-in-3 set, aside from Swift Current that only has two games versus a team playing in Game 3 of a 3-in-3 set.
Lethbridge is the leader in Rested games while Saskatoon leads the WHL with the most games as a Tired team.
QMJHL
Quebec franchises have the lowest variance among member clubs, with most playing three sets with the exception of Rimouski, Moncton and CapeBreton.
Blainville-Boisbriand leads with seven games against a team playing Game 3's – over double the league average.
Drummondville doubles the average with six (6), while sharing the lead with a dozen (12) games as a rested team with Charlottetown, while also leading the QMJHL with 11 games as a tired club, sharing the lead with Quebec.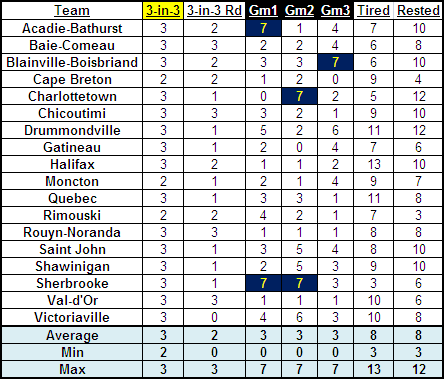 ************************
Follow the McKeen's team on Twitter: