Over the next few days, we will be releasing assessments of the draft classes. As with last year, they will be rolled out division by division. Before then, I wanted to take a few minutes, of my time and yours, to run through the McKeens Hockey Shadow Draft as well as a few other odds and ends and stray thoughts about the 2018 NHL draft.
The concept of a shadow draft is not an original one by any means. Quickly, we assume that we hold the middle pick of each round and we then simply draft the top player on our board each time that pick comes up. In the era of 31 teams, the middle pick is #16.
Here is our 2017 shadow draft, showing who we picked, where we ranked him, where/if he was drafted and who was actually chosen in that slot.
| Pick # | Player | MCKNS RANK | Actual Draft | Actual Pick |
| --- | --- | --- | --- | --- |
| 16 | Kristian Vesalainen | 9 | 24 | Juuso Valimaki |
| 47 | Ukko-Pekka Luukkonen | 32 | 54 | Alex Formenton |
| 78 | Keith Petruzzelli | 37 | 88 | Stuart Skinner |
| 109 | Adam Ruzicka | 40 | 109 | Adam Ruzicka |
| 140 | Sasha Chmelevski | 61 | 185 | Zach Fischer |
| 171 | Kirill Slepets | 74 | Undrafted | D'Artagnan Joly |
| 202 | Emil Oksanen | 76 | Undrafted | Filip Sveningsson |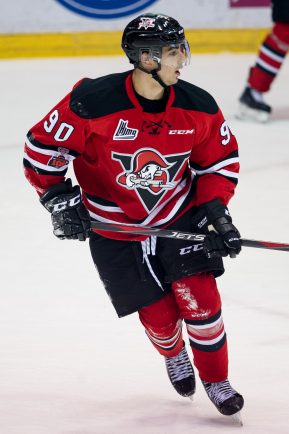 Looking back, I can sense the palpable irony in that we often advise against overdrafting goaltenders and yet here we are drafting two of them, and in the second and third rounds no less. Our final two picks were not selected at all, but that is normal as draft boards are over the place towards the end. Slepets had a decent season in the Russian junior ranks this year and was under consideration for the Russian WJC squad. Oksanen came to North America anyway and had a decent season with Regina in the WHL, gaining draft consideration once more and one more going undrafted. Vesalainen would likely go higher than 24 in a redraft, the two goalies had solid draft +1 years, in the Finnish Mestis (AHL-equivalent) and NCAA respectively. Calgary and ourselves were in perfect agreement with Ruzicka and Chmelevski proved that he was a great pick late, performing admirably with Ottawa this year and earning an ELC after a promising late season stint with the San Jose AHL affiliate.
In addition to having two netminders among our seven picks, our shadow draft was also notable for its lack of blueliners. To address that concern, for 2018, I added two rules. First, no more than one goaltender. Second, at least two forwards and two defenders must be drafted. How did we do?
| Pick # | Player | MCKNS RANK | Actual Pick # | Actual Pick |
| --- | --- | --- | --- | --- |
| 16 | Joe Veleno | 10 | 30 | Martin Kaut |
| 47 | Akil Thomas | 26 | 51 | Kody Clark |
| 78 | Blake McLaughlin | 40 | 79 | Sampo Ranta |
| 109 | Aidan Dudas | 52 | 113 | Tyler Weiss |
| 140 | Alexis Gravel | 67 | 162 | Brandon Saigeon |
| 171 | Merrick Rippon | 85 | Undrafted | Nikolai Kovalenko |
| 202 | Danila Galenyuk | 96 | Undrafted | Shamil Shmakov |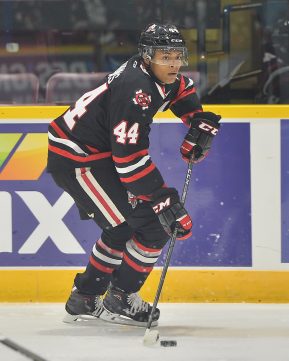 Upon the conclusion of the 2018 draft, I noted that 93 of our top 100 ranked players were drafted. 44 players were drafted who were not in our top 300, including one second rounder and three third rounders. In some respects, I was pleased by that outcome, but by other measures, I was dismayed.I am just as pleased to get Veleno this year as I was to get Vesalainen last year. I am even more delighted to come away with playmakers Akil Thomas, Blake McLaughlin, and Aidan in the second, third and fourth rounds. The NHL largely agreed with not letting those guys slide much further than they did in our shadow draft as, in real life, Thomas was drafted four slots after we took him, McLaughlin only lasted one more pick, and Dudas lasted but four picks. The rule mentioned about making sure we get at least some positional balance was used as we would have drafted six forwards and one goalie without it. We had the undrafted Pavel Gogolev and Patrick Giles both ranked in the 70s. The drop in perceived talent to Rippon and Galenyuk is superficial, though, and I believe in both of their futures.
These results got me to thinking about the value of our lists and the seeming lack of anything approaching "consensus" among NHL clubs, in addition to the scouting services of which McKeens is a peer.
While we ranked 217 players this year (one for every slot) and threw in an additional 83 names in our honorable mention grouping (17 of whom were drafted), many NHL teams don't rank much more than 100. And to be honest, they don't need to. In both of the last years, we were able to stay within our top 100 in our shadow drafts.
After the top few players, consensus falls apart rapidly. We saw it this year at pick three. In addition to our own ranking, many other services, in addition to a number of NHL scouts of my acquaintance, did not have Kotkaniemi as the third best prospect. Many had Filip Zadina, others had Brady Tkachuk. Others may have gone in a different direction entirely. In fact, if John Chayka is to be believed, I suspect the Coyotes would have taken Hayton at pick three, but knew he would be there at five, making it easy for them to decline Montreal's rumored overtures to trade down.
Shortly after the top ten, the talent bunches up considerably, and teams do not choose so much who they think is better, as no one can really project with accuracy to that many decimal places, but rather they begin to draft players who they believe would make for better fits within their organization. It might be Philadelphia liking the almost brash confidence of Jay O'Brien, who shocked most pundits when his name was called at pick 19. Or it might be San Jose, believing in the ability of Ryan Merkley to mature on and off the ice so that his sublime skills are all anyone talks about within a few short years, while other teams clearly did not have that comfort level.
So in short, teams are not just drafting the best player on their board whenever they pick. They are drafting the best player they are comfortable with from their board. Later on, they might also be trying to give candy to various regional scouts, allowing them to feel that their efforts, and the miles driven in white out conditions, bore fruit.
As I continued to ponder the results, I came to the conclusion that this outcome does not speak poorly to our efforts and the efforts of our public domain peers. We do not have to join hands with the players and do not need to worry about organizational fit, locker room culture, or any other intangible factor. We should, can, and do focus on skills.
Further, and perhaps more important, we must always remember that every team has scouts in every geographic region, as we do. But no one sees every single game. Our scouts pick and choose which games to focus on every week, and their scouts will have picked and chosen their games, for their own reasons. Even allowing for video scouting, no one sees every single game. So we get players that we saw at their best, or we only saw at their worst. And your favorite hockey team will also have possibly seen a given player only at his best or his worst.
To bring an example to that concept, I will touch upon my geographic home base in the USHL. I had many chances to watch the USNTDP this year and consequently became very familiar with what was a very strong draft class for the program (and it'll be even stronger next year). I can recall a conversation I had with an NHL scout about Patrick Giles. I was scoffing at how CSS had him ranked in the top 30 in their midterm rankings.* He is a very good skater for a very big player, and he seems to have decent hands and a good sense of positioning. On the other hands, he lacks in creativity to any degree and had the worst numbers, bar none, of any forward in the development program. The scout I was talking to, on the other hand, raved about his style of play, saying that Giles could "play on my third line any time."
*To clarify, I do not look at other rankings as rankings, per se, but I admire the breadth of coverage provided by CSS, and their lists are presented in a way that allows me to cross check my own lists to see if anything egregious was missed.
I had and have no reason not to take this scout at his word on that point. I was not completely there, but in the games I saw of the USNTDP, Giles did enough to make me see a potential NHLer inside. Bottom six maybe (bottom three, most likely), but clear NHL upside. I had no problem putting him in the 70 range. I still do not regret it, despite the fact that he was not drafted last weekend. I am positive that the organization of the scout I was talking to had him on their list, but they were never forced into a position where he was the top guy on their list.
Then we can look at Giles' teammate Gavin Hain. I saw Hain exactly as often as I saw Giles, yet I never saw a clear NHL role for Hain. I saw a smaller player who moved around alright and had a decent knack for positioning, but nothing that screamed out at me that I would advise drafting him. We ultimately ranked him in our nebulous 218-300 range, the Honorable Mention blob. The Philadelphia Flyers scouts had seen other USNTDP games and saw Hain do things I did not see him do. They saw things that made them believe in Hain more than I could.
And we saw things in Joe Veleno that allowed us to believe in him more than close to 20 teams, which is why we ranked him 10th. We also don't know if most of the other teams ranked Veleno 14th, but everyone disagreed on the players ranked in the first 13. There is the famous case of Mike Trout, the player many regard as the best currently active baseball player. He lasted until the 25th pick of the 2009 MLB draft. Afterwards, as he quickly ran roughshod through the minor leagues and became an immediate MLB star, other GMs came out stating that Trout was actually third or fourth or fifth on their lists, but when it was their turn to draft, the player ranked second, or third or fourth, was still out there. How many teams can say that? How many teams was that true for in the case of Veleno?
It will take years before we know how much of what we saw will come to the fore at the NHL level, and that is both the beauty and the beast of scouting.