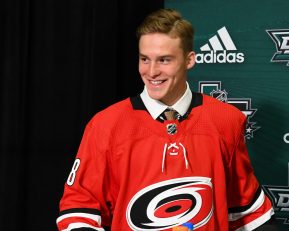 Everything started much as was expected, with Buffalo taking Rasmus Dahlin with the first pick and then Carolina keeping their pick and selecting Andrei Svechnikov.
Then came the third pick. Montreal was the first big question mark. Would they trade? Were the Kotkaniemi rumors true? Would they take Tkachuk? Zadina? Hughes? The mystery behind door C? No trades. The rumors on the big center from Finland were true. Montreal drafted a player they expect to be their first line center in Jesperi Kotkaniemi. There are parts of his game that suggest first line potential, but we had him slotted around ten spots later, mostly as a reflection of his relative lack of foot speed. While it was not what we would have done, it was not surprising or unexpected.
Nor was it especially surprising that Ottawa kept the number four pick, thereby consigning their 2019 first rounder to Colorado – even if it is the first overall pick. With Filip Zadina on the board, they shunned the natural goal scorer and took the muscle, a player we had connected them to in the official McKeens mock draft, in Brady Tkachuk. To their credit, he could contribute in the NHL right away, increasing the likelihood that the pick going to Colorado is not a lottery selection.
So surely the analytically inclined Arizona Coyotes would take Zadina, right? He scores goals and they like players who can score goals? Perhaps the trade for Galchenyuk led them to looking for a more complimentary, versatile talent? Perhaps they have their own rankings? The obviously have their own scouts, and their own rankings. Arizona gave us the first big surprise of the day, selecting Sault Ste. Marie center Barrett Hayton, a player whose numbers were deflated due to playing on the most talent-laden team in the CHL. Due to the plethora of NHL-drafted talent on the Greyhounds, he mostly played third line minutes showing some signs of high end offensive talent as well as playing a strong 200 foot game with very impressive hockey IQ. For all the talk about Arizona and analytics, they also trust the looks of their scouting staff, projecting what the player will do given a bigger role.
Detroit then were the lucky team that allowed the draft to come to them and snatched Filip Zadina, one of the best scorers in the draft class with the third pick, getting a player who could play in the NHL right away if Detroit were the type of team that would play an 18 year old. Generally speaking, they are not. But he could and that is what counts in this assessment. Skipping ahead 24 picks and a few hours, they would do the same thing again, but we will tackle that as it comes. In any case, the Red Wings started their 2018 draft class on the right foot.
We had been connecting Vancouver with Acadie-Bathurst blueliner Noah Dobson, dreaming of a future first pairing of Olli Juolevi on the left and Dobson on the right. But with the dynamic and similarly trending upwards Quinn Hughes still on the board, they have added a supremely talented player who, like Juolevi, plays on the left. Kudos for not following the herd with strict adherence to handedness, although there was no wrong answer between the two.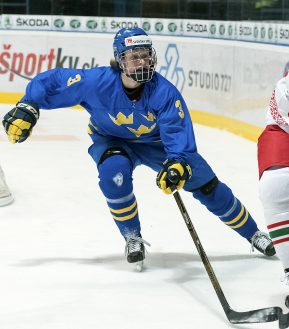 But maybe there was with Chicago's pick at eight. Between the four defenders after Dahlin (Hughes, Dobson, Bouchard, Boqvist), Boqvist had been trending down, with some concerned about his strength, some about a late-season concussion, some about his lack of interest in playing away from the puck. Chicago did not share those concerns, and drafted Boqvist with Bouchard and Dobson both on the board. If it works out, Stan Bowman and friends will be rightly applauded. If it doesn't, the Hawks are in trouble.
The Rangers let last impression rule the day with their first of three picks, taking Russian winger Vitali Kravtsov, who turned good reports into great ones with his playoff performance with Chelyabinsk in the KHL. He is expected to play at least one more season in the KHL, but he has all of the tools to be a top six winger on Broadway within a few years.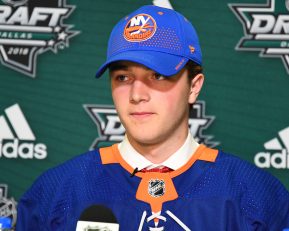 The next three picks, belonging to Edmonton (10th) and the New York Islanders (11th and 12th) helped to correct our board, with London defensive quarterback Evan Bouchard going to the Oilers and the Islanders cleaning house with Oliver Wahlstrom and Noah Dobson back-to-back. There was a pause between the Islanders' two picks, and GM Lou Lamoriello discussed the fact that he was looking at trading one (or both?) for an NHL roster player, but did not get an offer that worked for him. The three players discussed in this paragraph all project as first line/first pairing players and incredible value in this range.
The hometown Dallas Stars had the next pick and the partisan Dallas audience transitioned seamlessly from lustily booing NHL Commissioner Gary Bettman to passionately cheering hometown heroes Mike Modano and Jamie Benn, the latter of whom called out Flint center Ty Dellandrea after hamming it up with digs between him and Modano. In a draft called out for lacking high end centers, four were drafted in the first 13 picks. We had Dellandrea ranked 32nd, but hindsight (not just where he was selected) suggests that we should have ranked him around 8-10 spots higher. He has shown off a dynamic offensive streak in high-profile events, including the CHL Top Prospects Game and the WU18s. The pick was on the high side, but within reason. It was not as ugly as our ranking of Dellandrea suggests.
In the spirit of tomorrow's second through seventh rounds going faster than you can blink, the next few picks were all around where we had them ranked with Philadelphia drafting USNTDP winger Joel Farabee, Florida selecting Russian talent Grigori Denisenko, Colorado proving that the hockey world was not letting the heart condition identified at the combine from sinking Martin Kaut's stock and the Devils drafting Ty Smith, the talented puck mover from Spokane. All four of those picks are good value for the draft slot and project as middle of the roster talent in the NHL with some potential for more.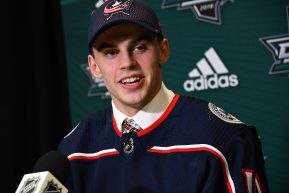 I would say the same about Liam Foudy, taken 18th by Columbus. A late riser in the draft class, he was a depth player with London at the start of the season and then took off in an advanced role after midseason, when the Knights traded away much of their top six. Over the second half of the season, he was one of the more riveting players in the OHL and his athleticism is off the charts, which he demonstrated in testing both at the CHL prospect game (on-ice testing) and the NHL combine (off ice testing). Given a full year in a top six role next season, his numbers could explode much like Morgan Frost's did this year in the Soo.
18 picks in, and there were a few weird moments. I could quibble with a few others, but Hayton at five and Dellandrea at 13 really stood out as being selected much higher than we had reason to believe. As we were soon to find out, that was just a small taste of the weirdness to come. For with the 19th pick, the Flyers added to their prospect pool with another college bound player. Was it K'Andre Miller, who would have provided excellent upside and value? Maybe the safer Mattias Samuelsson? The sleeper Jake Wise? Nothing so obvious. They went to the high school ranks and selected Jay O'Brien. I, and many others, were shocked by the selection. O'Brien, asked for comment later in the evening was not. A confident young man, he absolutely believed that he would be going in the first round, in his head and his gut.
Before I get back to the weirdness. Let's take a moment or two to mention some picks in the last dozen that fit roughly where we had them ranked. The Kings selected fast Finish center Rasmus Kupari with the 20th pick, hoping the speed of his hands will catch up to his feet. If it doesn't, he is still a fantastic skater. There is also Anaheim drafting Isac Lundestrom at pick 23. A jack of all trades forward, he can play up the middle, and if you are the optimistic type, you see a center with speed, good puck skills and the ability to process the game mentally.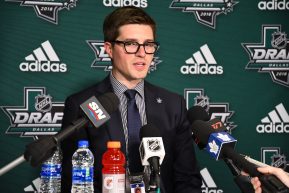 The Maple Leafs, seemingly keyed in on Sault Ste. Marie defender Rasmus Sandin early and, sensing he would last longer than their original pick at 25, traded down, giving the pick to the St. Louis Blues in exchange for pick 29 and a third rounder. They get a smart blueliner who can create offensive chances with his puck skills and needs to fill out more before playing professionally in North America. He is supposed to return to play in Sweden this year, but that might change.
With the third of three picks, the Rangers selected Swedish defender Nils Lundkvist, an offensive talent whose last name and destination suggests that his nickname must be "The Prince". With the last pick of the round, the Capitals combined their love of the WHL and their extreme comfort with Russian players to select Alexander Alexeyev, who between family tragedy and a knee injury, had a strong season at Red Deer. His going in the first round allows him to put a sweet ending on a sour year. We had both Lundkvist and Alexeyev ranked just outside the top 31, but they both fit there.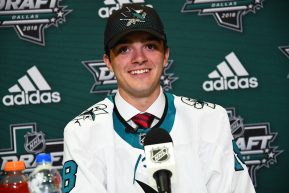 As for the rest, some players surprised by how far they have fallen while others shocked with how high they were taken. First though, Ryan Merkley. On talent alone, he could have been taken in the top ten. On the red flags related to his personality and off-ice maturity-centric concerns, more than a few teams would not have taken him in the first round. We gave more credit to his talent than his mental maturity, and assumed that a team with multiple picks would go for the home run towards the end of the draft. San Jose jumped the shark a little bit and took him 21st overall. Considering that he has publicly shown some realization that his behavior must change, if he works out, that is a fantastic new prospect for the team. If he doesn't grow up, he simply won't make it.
Now for the other guys who really surprised a lot of onlookers, ourselves included:
First, note that we liked all of the next group of picks, but felt that they provided much better value in the middle or late second round than they did in the first round.
At 24, Minnesota selected Swedish defenseman Filip Johansson. He processes the game at a high level, but none of his physical tools grade out as more than a bit above average. I don't mind the pick all that much, but it turned a lot of heads and seems to fit more the "safe" style espoused by Minnesota under Chuck Fletcher than the upside plays that new Wild GM Paul Fenton would have signed off on when he worked under David Poile in Nashville.
At 26, Ottawa made a speculative play to draft AJHL defender Jacob Bernard-Docker, from the Okotoks Oilers. JBD was fine in the AJHL, in fact he was their defenseman of the year, but is he better than Ian Mitchell was last year, who was taken in the second round? He does a lot of things well, but may not be more than a #4, and is at least three years from the professional game. I guess, to Ottawa's credit, they also got an extra second round pick from the Rangers for the pleasure of trading down four spots to pick here. On the other hand, the player the Rangers selected at 22 is, for my money, more valuable than Bernard-Docker plus pick 48. So there's that.
The Blackhawks also continued their run of drafting defensemen very high by taking Drummondville blueliner Nicolas Beaudin. There were a number of rumors connecting the Hawks to Beaudin, but we thought he fit more close to 30 picks later. He moves the puck well, but his start up speed lacks to the point where it could hurt.
For every player who unexpectedly rises, there is one who drops just as surprisingly. Remember how I talked about the value of the player the Rangers took at 22. They traded up with the Senators to ensure that they could get to K'Andre Miller. New to the blueline, Miller improved every single week with the USNTDP and, assuming patience to let him get three years of development at Wisconsin, he could be an easy first liner down the road.
Another second half riser up the draft boards was German winger Dominik Bokk. Some consider his puck skills to be top 10 worthy. Perhaps due to limited high level hockey experience, he slipped until pick 25, where he was selected by St. Louis. He could return to continue his development in Sweden or come to North America. The Blues traded up from pick 29 to 25 – sending a third rounder this year for the privilege – to get him.
Finally, and most shockingly, there is the case of Joe Veleno. Once good enough to become the first player granted "exceptional status" by the QMJHL, a lackluster first half with Saint John before being traded to Drummondille, seemed to have scared people off. Even as other teams were reaching for centers, Veleno fell. He was not even the first Voltigeur drafted, as teammate Nicolas Beaudin went at 27. The Red Wings finally stopped Veleno's fall with the 30th pick in the draft, the pick they received from Vegas as part of the return for Tomas Tatar. Veleno is a high end skater with plenty of experience in the spotlight who immediately brings current Arizona Coyote Jakob Chychrun to mind. If teams focused on what he was instead of what he was not, he would have gone much earlier.
It is around four years too early to pick winners and losers, but I can state that I like the approaches taken by Detroit and the New York Islanders the best, while I question the selections made by Chicago and Ottawa. To a lesser extent, Philadelphia will be scrutinized – and fairly so – for the selection of O'Brien at 19. Among the teams who had only a single pick, Edmonton and New Jersey got great value, while Minnesota and Dallas were both more questionable in that regards.
Heading into the rapid fire round two, our top ten players still on the board, in order, are: Bode Wilde, Serron Noel, Jared McIsaac, Akil Thomas, Jonatan Berggren, Ryan McLeod, Calen Addison, Jacob Olofsson, Kirill Marchenko, and Jesse Ylonen.
| PICK | TM | MCK | PLAYER | POS | TEAM | HT/WT | DOB |
| --- | --- | --- | --- | --- | --- | --- | --- |
| 1 | BUF | 1 | Rasmus Dahlin | D | Frolunda (Swe) | 6-2/185 | 13-Apr-00 |
| 2 | CAR | 2 | Andrei Svechnikov | RW | Barrie (OHL) | 6-2/190 | 26-Mar-00 |
| 3 | MTL | 13 | Jesperi Kotkaniemi | C | Assat Pori (Fin) | 6-1/190 | 6-Jul-00 |
| 4 | OTT | 4 | Brady Tkachuk | LW | Boston University (HE) | 6-3/195 | 16-Sep-99 |
| 5 | ARI | 11 | Barrett Hayton | C | Sault Ste Marie (OHL) | 6-1/190 | 9-Jun-00 |
| 6 | DET | 3 | Filip Zadina | RW | Halifax (QMJHL) | 6-0/195 | 27-Nov-99 |
| 7 | VAN | 6 | Quinn Hughes | D | Michigan (B1G) | 5-10/175 | 14-Oct-99 |
| 8 | CHI | 9 | Adam Boqvist | D | Brynas (Swe) | 5-11/170 | 15-Aug-00 |
| 9 | NYR | 16 | Vitali Kravtsov | RW | Traktor Chelyabinsk (Rus) | 6-2/170 | 23-Dec-99 |
| 10 | EDM | 7 | Evan Bouchard | D | London (OHL) | 6-2/195 | 20-Oct-99 |
| 11 | NYI | 5 | Oliver Wahlstrom | RW | NTDP (USA) | 6-1/205 | 13-Jun-00 |
| 12 | NYI | 8 | Noah Dobson | D | Acadie-Bathurst (QMJHL) | 6-3/180 | 7-Jan-00 |
| 13 | DAL | 32 | Ty Dellandrea | C | Flint (OHL) | 6-0/185 | 21-Jul-00 |
| 14 | PHI | 12 | Joel Farabee | LW | NTDP (USA) | 5-11/165 | 25-Feb-00 |
| 15 | FLA | 27 | Grigori Denisenko | LW | Lokomotiv Yaroslavl (Rus) | 5-11/175 | 24-Jun-00 |
| 16 | COL | 20 | Martin Kaut | RW | Pardubice (Cze) | 6-1/175 | 2-Oct-99 |
| 17 | NJD | 15 | Ty Smith | D | Spokane (WHL) | 5-10/180 | 24-Mar-00 |
| 18 | CBJ | 25 | Liam Foudy | C | London (OHL) | 6-0/175 | 4-Feb-00 |
| 19 | PHI | 48 | Jay O'Brien | C | Thayer Academy (USHS-MA) | 5-10/185 | 4-Nov-99 |
| 20 | LAK | 21 | Rasmus Kupari | C | Karpat Oulu (Fin) | 6-1/185 | 15-Mar-00 |
| 21 | SJS | 31 | Ryan Merkley | D | Guelph (OHL) | 5-11/170 | 14-Aug-00 |
| 22 | NYR | 14 | K'Andre Miller | D | NTDP (USA) | 6-3/205 | 21-Jan-00 |
| 23 | ANA | 19 | Isac Lundestrom | C | Lulea (Swe) | 6-0/185 | 6-Nov-99 |
| 24 | MIN | 46 | Filip Johansson | D | Leksands (Swe) | 6-0/175 | 23-Mar-00 |
| 25 | STL | 18 | Dominik Bokk | RW | Vaxjo Lakers (Swe) | 6-1/180 | 3-Feb-00 |
| 26 | OTT | 56 | Jacob Bernard-Docker | D | Okotoks (AJHL) | 6-0/180 | 30-Jun-00 |
| 27 | CHI | 55 | Nicolas Beaudin | D | Drummondville (QMJHL) | 5-11/175 | 7-Oct-99 |
| 28 | NYR | 37 | Nils Lundkvist | D | Lulea (Swe) | 5-11/180 | 27-Jul-00 |
| 29 | TOR | 23 | Rasmus Sandin | D | Sault Ste Marie (OHL) | 5-11/185 | 7-Mar-00 |
| 30 | DET | 10 | Joe Veleno | C | Drummondville (QMJHL) | 6-1/195 | 13-Jan-00 |
| 31 | WAS | 35 | Alexander Alexeyev | D | Red Deer (WHL) | 6-3/200 | 15-Nov-99 |