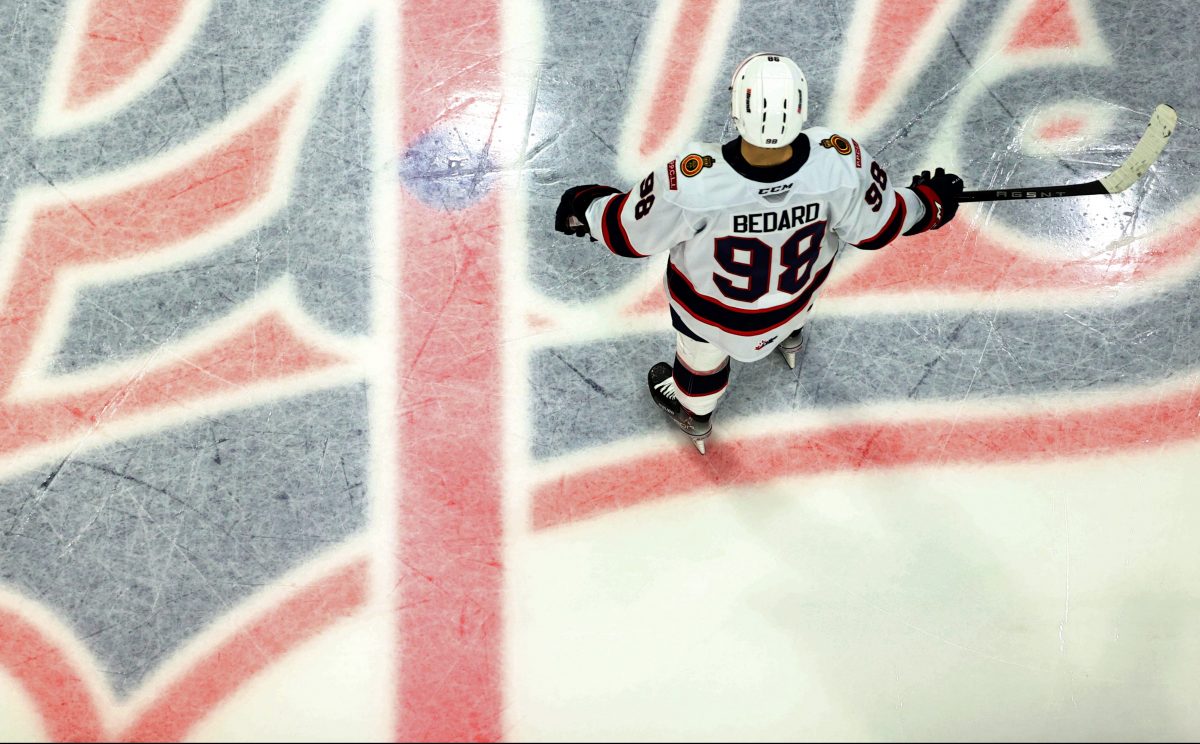 Many important scouting events have come and gone, such as the World Junior Championships, the World Junior A Challenge, the Biosteel All American game, and the CHL Top Prospect's Game. That means it is time for McKeen's Hockey to update our draft rankings for the 2023 NHL draft. Back in November, we released our preliminary top 50 (found here). This time around, we have expanded our ranking to a top 100 (plus 20 honorable mentions).
The first round of this list continues to be dominated by the Western Hockey League. Four of our top ten and nine of our top 32 (first round graded) are WHL players. The United States has a very strong presence in our first round ranking too, with eight players playing south of the Canadian border.
Positionally, forwards continue to dominate the vast majority of our first-round spots, with only six defenders and two goaltenders bucking that trend. Of particular interest, we do not have a defender ranked inside of our Top 13. Is it possible that no defender is drafted inside of the top 10 in Nashville this June? According to our scouts…yes. However, it is also important to note that this is exceptionally rare. The last time no defender was taken inside of the Top 10 was 1983 (Bobby Dollas at 14th overall to Winnipeg)!
Several players made huge leaps upward in our midseason rankings. Among them are Ryan Leonard, Oliver Moore, Dmitri Simashev, Oliver Bonk, David Reinbacher, and Quentin Musty. Leonard is a strong two-way goal scoring winger with an athletic skill set. Oliver Moore is one of the best skating forwards available this year and also plays a mature two-way game. Both have stood out positively of late for the U.S. NTDP. Dmitri Simashev is a massive defender who brings physicality and mobility, but who is also gaining confidence in his offensive abilities. Oliver Bonk has emerged as one of the top defensive defenders in the OHL; a fact that was on display at this year's Top Prospect's Game. David Reinbacher continues to perform well in Switzerland and was a standout for an overmatched Austrian squad at the WJC's. All three defenders are surging up our rankings and could finish the year even higher with continued strong play. Meanwhile, Quentin Musty has played very well in Sudbury post coaching change and his upside remains extremely intriguing.
Without further ado, here is our Top 32. Our Top 100 (with 20 honorable mentions) is available for subscribers here.
| RANK | PLAYER | POS | TEAM | HT/WT | DOB | GP-G-A-PTS |
| --- | --- | --- | --- | --- | --- | --- |
| 1 | Connor Bedard | C | Regina (WHL) | 5-10/185 | 17-Jul-05 | 34-42-43-85 |
| 2 | Adam Fantilli | C | Michigan (B1G) | 6-2/195 | 12-Oct-04 | 22-16-24-40 |
| 3 | Leo Carlsson | C | Orebro (SHL) | 6-3/200 | 26-Dec-04 | 31-5-13-18 |
| 4 | Matvei Michkov | RW | HK Sochi (KHL) | 5-10/170 | 9-Dec-04 | 14-4-2-6 |
| 5 | Will Smith | C | USN U18 (USDP) | 6-0/175 | 17-Mar-05 | 36-28-41-69 |
| 6 | Andrew Cristall | LW | Kelowna (WHL) | 5-9/165 | 4-Feb-05 | 36-26-36-62 |
| 7 | Zach Benson | LW | Winnipeg (WHL) | 5-9/160 | 12-May-05 | 41-25-41-66 |
| 8 | Nate Danielson | C | Brandon (WHL) | 6-1/185 | 27-Sep-04 | 45-23-33-56 |
| 9 | Eduard Sale | LW | Kometa Brno (Cze) | 6-2/175 | 10-Mar-05 | 34-3-5-8 |
| 10 | Dalibor Dvorsky | C | AIK (Allsvenskan) | 6-1/200 | 15-Jun-05 | 27-4-7-11 |
| 11 | Ryan Leonard | RW | USN U18 (USDP) | 5-11/190 | 21-Jan-05 | 34-25-27-52 |
| 12 | Oliver Moore | C | USN U18 (USDP) | 5-11/185 | 22-Jan-05 | 37-21-26-47 |
| 13 | Brayden Yager | C | Moose Jaw (WHL) | 5-11/165 | 3-Jan-05 | 48-20-35-55 |
| 14 | Dmitri Simashev | D | Lokomotiv Yaroslavl (KHL) | 6-4/200 | 4-Feb-05 | 15-0-0-0 |
| 15 | Colby Barlow | LW | Owen Sound (OHL) | 6-0/195 | 14-Feb-05 | 42-36-27-63 |
| 16 | Lukas Dragicevic | D | Tri-City (WHL) | 6-1/190 | 25-Apr-05 | 44-13-42-55 |
| 17 | Axel Sandin Pellikka | D | Skelleftea (SHL) | 5-11/180 | 11-Mar-05 | 19-2-3-5 |
| 18 | Mikhail Gulyayev | D | Avangard Omsk (KHL) | 5-11/170 | 26-Apr-05 | 12-0-1-1 |
| 19 | Daniil But | LW | Lokomotiv Yaroslavl (KHL) | 6-5/200 | 15-Feb-05 | 12-1-0-1 |
| 20 | Carson Bjarnason | G | Brandon (WHL) | 6-3/185 | 30-Jun-05 | 17-14-2, 2.90, .911 |
| 21 | Calum Ritchie | C | Oshawa (OHL) | 6-2/185 | 21-Jan-05 | 43-19-25-44 |
| 22 | Gavin Brindley | C | Michigan (B1G) | 5-8/165 | 5-Oct-04 | 26-3-14-17 |
| 23 | Gabe Perreault | RW | USN U18 (USDP) | 5-11/165 | 7-May-05 | 39-35-41-76 |
| 24 | Matthew Wood | RW | UConn (HE) | 6-3/195 | 6-Feb-05 | 27-9-16-25 |
| 25 | Riley Heidt | C | Prince George (WHL) | 5-10/180 | 25-Mar-05 | 44-19-41-60 |
| 26 | David Reinbacher | D | Kloten (Sui-NL) | 6-2/185 | 25-Oct-04 | 36-2-17-19 |
| 27 | Caden Price | D | Kelowna (WHL) | 6-0/185 | 24-Aug-05 | 44-5-19-24 |
| 28 | Ethan Gauthier | RW | Sherbrooke (QMJHL) | 5-11/175 | 26-Jan-05 | 45-17-32-49 |
| 29 | Quentin Musty | LW | Sudbury (OHL) | 6-2/200 | 6-Jul-05 | 32-12-36-48 |
| 30 | Kasper Halttunen | LW | HIFK (Fin-Liiga) | 6-3/205 | 7-Jun-05 | 24-0-1-1 |
| 31 | Otto Stenberg | C | Frolunda (Swe J20) | 5-11/180 | 29-May-05 | 23-8-12-20 |
| 32 | Michael Hrabal | G | Omaha (USHL) | 6-6/210 | 20-Jan-05 | 6-9-3, 3.18, .899 |