Joe Veleno is currently ranked #11 on McKeen's mid-season rankings, having finished his QMJHL season at 10th in league scoring. Six games after joining the Voltiguers in early December after carrying a heavy load for the Sea Dogs, he went on 13 game scoring streak on a deeper team, resulting in 8 goals, 22 assists and 30 points. Having fired four goals in five playoff games so far, a good playoff will cement a high draft ranking.
Please Note - We are making this profile of Joe Veleno available as a sample of the scouting profiles you will receive with a subscription to McKeen's Hockey. Your subscription will include a 96 page PDF publishing on June 1st. We currently have over 90 2018 NHL draft eligible profiles done and will have at least 120 done by the time the draft arrives in June. You can learn more here.
Here is the explanation of the grades we provide below. A note on the 20-80 scale used below. We look at five attributes (skating, shooting, puck skills, hockey IQ and physicality) for skaters and six for goalies (athleticism/quickness, compete/temperament, vision/play reading, technique/style, rebound control and puck handling). Each individual attribute is graded along the 20-80 scales, which includes half-grades. The idea is that a projection of 50 in a given attribute meant that our observer believed that the player could get to roughly NHL average at that attribute at maturity.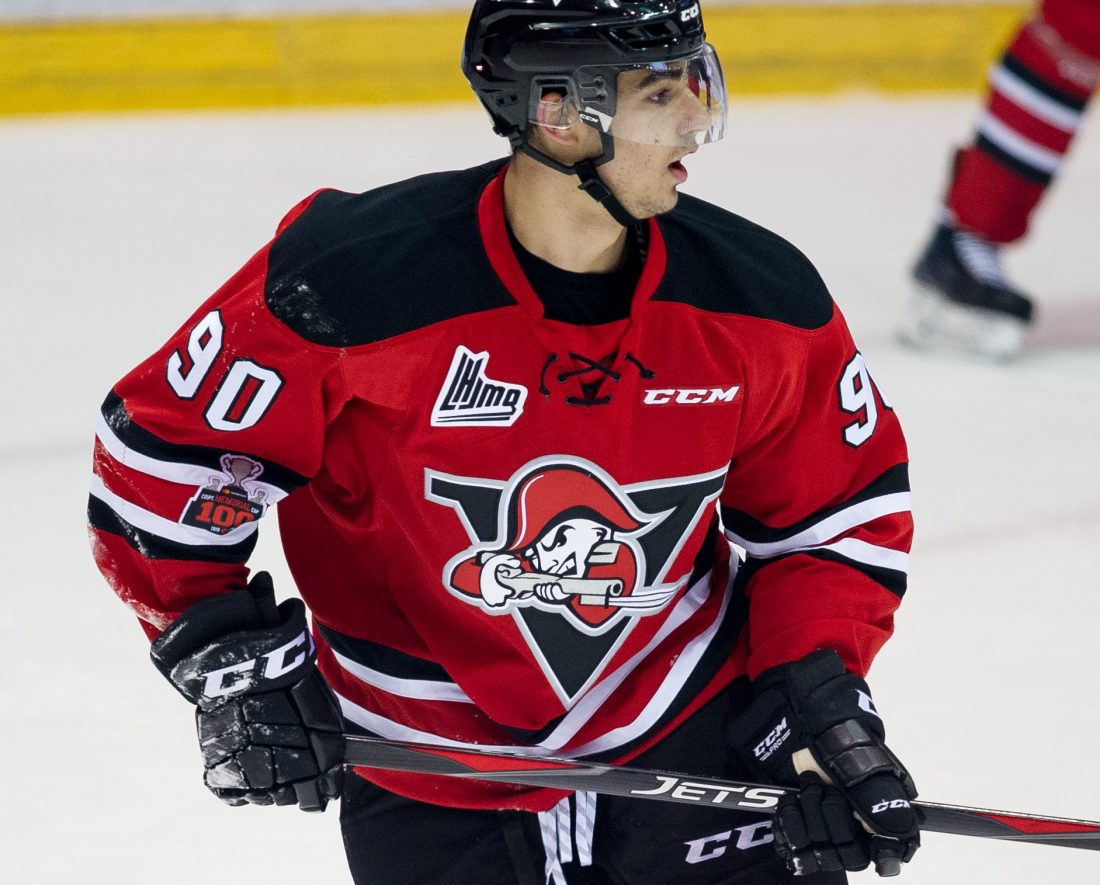 | Joe Veleno | Eligible - 2018 NHL Draft |
| --- | --- |
| Position: C, Shoots L | H/W: 6-1", 195 lbs |
| Stats to date (GP-G-A-PTS-PIMS) | Saint John Sea Dogs, QMJHL, (31-6-25-31-26) |
| | Drummondville Voltigeurs, QMJHL (33-16-32-48-22) |
Skating: Veleno is a stronger skater than his frame lets on. His low center of gravity works to his benefit in physical situations against bigger defenders; he gets a wide stance in the offensive zone with the puck and it makes him very hard to knock off the puck despite a smaller-than-average frame. That will improve as he grows more into his adult body. His top speed is a notch below the elite level, but his edgework and agility make up for it and make him very tough to defend. He is a very shifty East-West skater. Grade: 55
Shot: Veleno is a playmaker, and is more at home passing than shooting. His most dangerous shot is one that is more dangerous because of how off-balance he makes the defenders on the way to the net. His hands in tight lend to a very quick backhand and a quick wrister. Having said that, the wrister can beat goaltenders off the rush effectively at this level. The slapshot usually only makes an appearance on powerplays off the wall or from the point, and is a good one, but it is used mostly to set up a rebound chance, rather than a howitzer on its own. It is quite accurate at finding holes to the net. The slapper, though, is a shot to wound, not to kill. Grade: 55
Skills: Veleno is a very skilled player both with and without the puck. His skills are on display every shift. His ability to hit teammates on seam and path through traffic is elite level. He can find teammates in stride through a maze and hit them on the tape. His vision and passing ability are excellent. So, too, are his hands. He is one of the few players in the league who can go one-on-three and succeed to provide a scoring chance for his club, and had to do so at times for Saint John. Thankfully, he has not needed to do that in a Drummondville uniform often, but it demonstrates just how strong his puck skills are. He can use his whole body to sell fakes and dekes and draw defenders to him to open up passing lanes or shooting lanes. Grade: 65
Smarts: Veleno is one of the smartest players in the draft class. One of the reasons he was granted exceptional player status in 2015 was because his two-way game was developed beyond his years. That still holds true. It is evident with every shift that he processes the game at a higher level than most at this level. He is an exceptional defensive forward as a balance to his offensive game. His aggressive play and ability to anticipate and read passes make him an asset on the penalty kill. He is fully capable of playing in the center's role on the ice in the defensive zone. He performs defensive tasks competently without a size advantage, which is rare to see at his age. He also reads the play with the puck at an exceptional, near-elite rate. He can hit players in traffic and knows when a pass or a shot would be best to maximize offensive output for his team. He has experience on the point on the powerplay because of his passing and his defensive awareness, though he may be better served on a side of the umbrella, with some point presence; his passing is a bit better used from the side-board than the blue line. Grade: 65
Physicality: Veleno understands the limitations of his frame at this point, and is not a physical player. He is more of a perimeter player than a guy who hangs out in the slot, and is still learning where he is most effective on the ice. He has the skills to hone his craft where he chooses, but the boards on the wing is his most successful, so far. He does not engage with the body all that much, which is not why he is in the lineup. Grade: 45
Summary: Joe Veleno has had a target on his back since he was 15. He is the only exceptional status player in QMJHL history and has had high expectations since he put on a Saint John Sea Dog uniform for the first time. Last year, he was an excellent counter-weight with Julien Gauthier to a gritty top line of Matt Highmore and Spencer Smallman. This season, all of the top nine except for Veleno were gone, and that left the young forward as the lone star forward from last season's President's Cup winning squad. He struggled a bit under the weight of being the savior of the Sea Dogs, and was exchanged to a young-but-strong Drummondville squad in December. The pressure of being a sure-fire first rounder on a team going nowhere clearly got to him in the early going, and he was trying to do too much on all areas of the ice, playing out of position at times and overextending his shifts. The trade to Drummondville reinvigorated his season, and he has had much better offensive numbers among a number of talented Voltigeur players. Veleno's impact on a game is often the same game-per-game, but it is not always on the scoresheet. He can create space with linemates by drawing defenders with his presence, picking a scoring chance out of an opponent's pocket on the backcheck, or anticipating and transitioning a broken play towards the opponent's goal. He had a 12-game point-streak after joining the team, and has helped recover some of his draft stock by maximizing his teammates' talents and being the centerpiece of a strong team. He could resuscitate his draft stock completely with a strong playoff, and this spring could mean a whole lot for his future.
Overall Future Projection (OFP): 59