Anaheim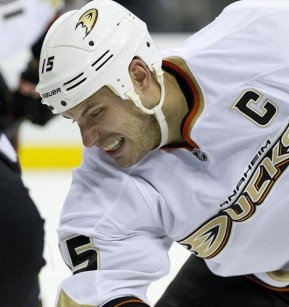 Ryan Getzlaf – Sustained a lower-body injury last week and hasn't resumed skating yet.  A couple days back Ducks coach Randy Carlyle did say on Saturday that he expected Getzlaf to play in the opener, but that's on Thursday so we're cutting it pretty close now.
Patrick Eaves – Didn't end up playing in any preseason games.  His lower-body injury might keep him out of the season opener as well.  He's another player Carlyle projected to be available for the opener while speaking on Saturday though, so we'll see.
Arizona
Oliver Ekman-Larsson – Good news on this front.  His recovery from his knee injury has progressed to the point where he's been practicing with the Coyotes.  It looks like he'll be ready for the season opener.
Antti Raanta –A lower-body injury kept him out of the Coyotes' last preseason game.  He practiced with Arizona on Sunday though, so he'll probably be fine for the opener.
Boston
Torey Krug – The Bruins are hoping that his jaw injury only sidelines him for the first three-to-five regular season games.  In the meantime, he has been skating.  For what it's worth, when he does return he'll be wearing a protective mask.
Buffalo
Benoit Pouliot – Was on a line with Ryan O'Reilly and Kyle Okposo during Sunday's practice.  He had been practicing as a bottom-six forward previously, so it will be interesting to see if he ends up on that unit to start the campaign.
Zemgus Girgensons – It was bad news for Girgensons.  He was previously on Ryan O'Reilly and Kyle Okposo's line, but Girgensons was knocked down to the third unit with Sam Reinhart and Jason Pominville.  The Sabres' third line has potential though.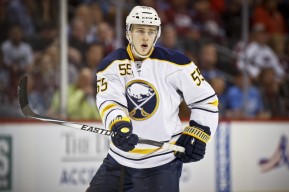 Rasmus Ristolainen – After averaging 26:28 minutes per game last season (up from 25:17 minutes in 2015-16), Sabres coach Phil Housley wants to cut Ristolainen down to 22-23 minutes per game.  The hope is that will keep him fresher for the final stretch.
Calgary
Jaromir Jagr – Signed a one-year contract with Calgary that comes with a $1 million base salary.  Not sure what line Jagr plays for, but here's a fun aside: Jagr was drafted the same year as Matthew Tkachuk's father Keith.  Keith Tkachuk retired seven years ago.
Carolina
Lee Stempniak – His hip/back problems remain something of a mystery.  On Monday Hurricanes coach Bill Peters remarked, "We've got to get to the bottom of it sooner rather than later."  Stempniak is questionable for the season opener and how much time he might miss beyond that seems like anybody's guess.
Chicago
Connor Murphy – Sustained a lower-body injury on Saturday and didn't practice on Monday as a result.  It's not clear if he'll be available for the opener.
Colorado
Jonathan Bernier – As mentioned before, he sustained a groin injury on Sept. 25.  The good news is that he resumed practicing with the team on Monday.
Columbus
Brandon Dubinsky – Got into the preseason finale on Saturday after missing all the previous exhibition contests due to a wrist injury.  He should be fine for the season opener.
Pierre-Luc Dubois – Although the Blue Jackets have experimented with using him as a center, it looks like he'll be serving as a left winger to start the campaign.  His projected linemates are Brandon Dubinsky and Matt Calvert.
Boone Jenner – His back injury will keep him out of the season opener.  Beyond that there's no timetable for his return.  He hasn't skated with the Blue Jackets yet.
Detroit
David Booth – Signed a one-year, two-way deal with the Red Wings.  It sounds like he'll be in the lineup for the season opener, probably alongside Riley Sheahan and Luke Glendening.
Florida
Owen Tippett – He'll be part of the Panthers' roster for the start of the 2017-18 campaign.  The downside is that it might be as a fourth line forward, so he might not be a fantasy factor for a while still.
Los Angeles
Mike Cammalleri/Jonny Brodzinski – The two might find themselves on either side of Anze Kopitar to begin the season.  Obviously that would be great news for both of them, but it'd be a particularly big opportunity for the rookie Brodzinski.
Minnesota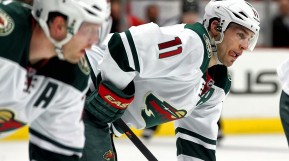 Zach Parise – Is now expected to miss the first two games of the regular season due to his back problem.  He also missed the Wild's whole preseason schedule.
Nashville
Viktor Arvidsson – There's been talk of him not opening the season with Ryan Johansen and Filip Forsberg.  Two potential candidates to replace him on the top line would be Kevin Fiala and Scott Hartnell.  None of that's been finalized yet though.
New Jersey
Jimmy Hayes – More of an FYI because he doesn't have fantasy value, but he did earn a one-year, $700,000 contract with New Jersey after attending the Devils' training camp on a PTO.
Pavel Zacha – He's getting a big opportunity off the bat as he's projected to open on a line with Taylor Hall and Kyle Palmieri.  It's not set in stone, but Devils coach John Hynes called it a "strong possibility.
NY Rangers
Kevin Shattenkirk – It's not surprising, but it looks like Shattenkirk will be paired with Ryan McDonagh to start the season.
NY Islanders
Jordan Eberle – Another bit of anticipated, but nice to be basically confirmed news is that Eberle will be starting the campaign alongside John Tavares.  The third member of that unit should be Anders Lee.  Islanders coach Doug Weight has been happy with that trio so far.
Ottawa
Derick Brassard – Has been cleared for contact, so he might be able to play in the season opener.  He's been recovering from a shoulder injury.
Erik Karlsson – Still dealing with a foot injury, it's now very unlikely that he'll play in the opener.  Not sure when he'll be back.
Philadelphia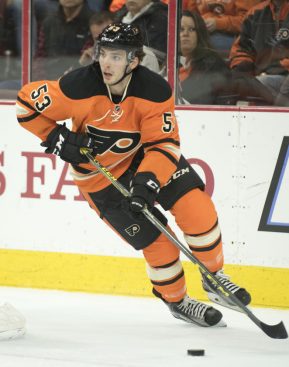 Shayne Gostisbehere – Sustained an upper-body injury during Sunday's game.  There hasn't been an update yet, but he did join the Flyers' flight to San Jose (ahead of Wednesday's opener), so you could take that as an encouraging sign.
Travis Sanheim/Sam Morin – They were battling for a spot on the roster, but if Gostisbehere isn't available then they could both stay on the roster for now.  Fellow rookie defenseman Robert Hagg did make the roster so he should remain with the squad regardless of Gostisbehere's status.
San Jose
Joe Thornton – He made his preseason debut on Saturday, clearing the way for him to participate in the opener.  He underwent knee surgery to repair a torn ACL/MCL.
St. Louis
Scottie Upshall – Not of much fantasy relevance, but he did sign a one-year contract with the Blues.  He began on a PTO with Vancouver, but found an opportunity with the Blues instead due to their injuries.  Upshall is likely to enter the season on the fourth line alongside Kyle Brodziak and Chris Thorburn.
Washington
Tom Wilson – He'll have a hearing tomorrow (Tuesday) for boarding the Blues' Sam Blais.  He already served a two-game preseason suspension over interference, so maybe this will be a harsher punishment as a result.
Brooks Orpik – Capitals coach Barry Trotz is tentatively planning to pair Orpik up with John Carlson to open the season.  Orpik usually played alongside Nate Schmidt last season, but he's not with the team anymore.  Similarly, Carlson's most common 2016-17 partner, Karl Alzner, is also gone.
Jakub Vrana – Not set in stone, but there's a chance that Vrana not only opens the season with the Capitals, but does so on a line with Alex Ovechkin and Evgeny Kuznetsov.
Winnipeg
Matt Hendricks – Is on the injured reserve after sustaining an undisclosed injury during Wednesday's preseason contest.  He's regarded as day-to-day.
Andrew Copp – Suffered a knee injury during Saturday's preseason contest.  Jets coach Paul Maurice hasn't ruled out Copp for the season opener though.