So, the first round of the 2019 NHL Draft is in the books.
As expected, crowd booed Gary Bettman lustily and then the Devils selected Jack Hughes, leaving Kaapo Kakko to go to the Rangers. And then things got weird.
By the end of the evening, 25 of McKeen's Top 31 were selected (links to player pages included in article), with no one taken who we had ranked lower than 47th. Subscribers can link to the player page for more detail by clicking on the player's name. If you are not a subscriber you can learn more here.
The Blackhawks were said to have been considering all of Alex Turcotte, Bowen Byram, Kirby Dach and Trevor Zegras at the three spot, and ultimately took the forward with the smoothest past to the NHL in Dach. If Twitter is to be trusted, Chicago fans are not happy. But they should be pleased. Dach can control a shift and has as much natural talent as anyone.
The Avalanche then locked up a blueline that has the ability to be among the best in hockey for the next decade with Bowen Byram, the clear best blueliner in the draft class. Between Byram, Cale Makar, Samuel Girard and Conor Timmins (if Timmins is over the concussion issues which derailed the entirety of his 2018-19 season, good luck beating them).
The Kings played it straight at five, selecting Alex Turcotte, who could be what they had been hoping Gabriel Vilardi would have been before the latter suffered a debilitating back injury. Turcotte will likely spend one year at Wisconsin and then turn pro. He is not far from being ready to apprentice behind Anze Kopitar in LA. And between Turcotte, 2018 first rounder Rasmus Kupari and Vilardi (if he recovers) the Kings are stacked down the middle. Some of these guys may move to the wing, but the concept of the Kings as a big, bruising team is finished. Rob Blake has rebuilt them with speed in mind.
While picks three, four, five were shrouded in mystery before the event began, the players taken were all among those largely thought to be among those expected to go in that area. At pick six, Detroit made audible waves. With his first pick as the General Manager of the Red Wing, Steve Yzerman selected German blueliner Moritz Seider. Not only did the entire audience gasp, but most of the other team GMs did too. We had received some intelligence that the Red Wings were sniffing hard on Seider, but I don't think anyone could have seen this coming. Yzerman has taken a big leap of faith that the maturity and tool collection that Seider demonstrated with Mannheim will translate to the North America pro game and that he can continue to develop into even more. For positive memories of this night, though, the tidal wave-like gasp was near the top.
Buffalo shook things up a bit at seven, with Jason Botterill selecting his first ever CHL pick in Lethbridge's big center Dylan Cozens. His skill coupled with size offers the Sabres a dimension they have lacked for some time. He needs more time to develop, but his tools give him a top line upside, and top six as a more pessimistic outlook. He can also be shifted to the wing if the need arises.
Edmonton confirmed the loud rumors of the past few days at eight, selecting swift Swedish defender Philip Broberg. Many around Edmonton were skeptical when the whispers first came out, but Broberg could end up not just earning his lofty draft slot but outperforming it as well. He is relatively new to the position and has several dynamic elements to his game, not just his elite wheels.
Anaheim next took one of my favorite prospects in this year's class with their first of two picks, in USNTDP playmaker extraordinaire Trevor Zegras. The Ducks have amassed a nice collection of young forward talent in recent drafts, and Zegras can outshine them all. He can play at any forward position and sees passes that mere mortals can only dream about. Wherever he lines up, he will make his linemates better for it.
The hometown Vancouver Canucks rounded off the top ten. For all of the positive impression left by the Seider pick, this was simply the reverse. After the crowd cheered the management staff as they strode up to the podium, after it became clear that they were selecting Russian prodigy Vasili Podkolzin, the jeers competed with the cheers in volume and passion. I don't know what Podkolzin felt after hearing the reception he received, but I doubt he is rethinking his idea to stay in Russia through the end of his current contract (two years). Yes, he is divisive, but his talents rival those of anyone taken after the top two here.
The only trade of the day came next, with Philadelphia trading the 11th overall pick to Arizona for pick 14 and a second rounder. That nothingburger of a trade was the only trade of the day. Let that sink in for a moment. The Coyotes took the opportunity to add Swedish blueliner Victor Soderstrom to their organization. A high floor, moderate ceiling defender, he is not far from the NHL.
Minnesota did not need to be bold to draft Matthew Boldy at 12 (sorry for the pun), but he becomes the easy top prospect in the system. He contributes even when he isn't scoring, and he adds a ton of offense besides. He has all of the tools and could be a first liner in time. He might need two years on campus, but I like this pick much more than Paul Fenton's first rounder last year.
As had been rumored for the last week, Florida drafted the goalie next, making Spencer Knight the first goalie picked since Jake Oettinger in 2017. Although we ranked Knight outside of the first round (32) that was not a reflection of his super high-end potential, but a note about the fickle nature of goalie prospects. There are few holes in his game (quick shots off the rush, occasional rebounds) and they should be fillable with time. But he's a goalie.
At 14, the run on USNTDP players continued, with Philadelphia snapping up Cam York. A consummate blueline quarterback, he can play a role currently occupied by Shayne Gostisbehere, but will spend some time in Ann Arbor first.
At 15, a fourth consecutive USNTDP prospect was selected and the Montreal Canadiens must be in awe of their good fortune as goal scorer extraordinaire Cole Caufield somehow slipped to the middle of the first round. Yes, he is short, but he is stocky and has good strength in his legs and he can score goals from every variety and all locations. His shot is near elite and his vision is astounding. Getting him at 15 after some had suggested he could go as high as fifth is a true coup.
The pivot pick of the first round was the Avalanche's second of the first and after taking a blueliner up top, they took a gifted center in Alex Newhook who destroyed the BCHL and then impressed against heightened competition in the WU18 playing for Team Canada. He may need two years or more on campus, but he has second line upside. There were whispers that he could drop due to some attitude questions, but he represents good value at 16.
The first big drop ended at 17 with Vegas snapping up Peyton Krebs. It is possible that his recent Achilles injury gave some teams pause, but more likely that the teams picking higher simply liked a different player more. Playing on a horrid Kootenay ICE team last year may have shielded Krebs' true potential. But looking at what he accomplished during the CHL Top Prospect Game and the WU18 for Team Canada, playing with more skilled teammates, should have served as reminder that he can be extremely dynamic in his own right.  Very good long-term pick.
Another light-hearted moment came with the Stars' pick at 18, as the owner (or his father) called out the name of "Harley Thomas". There was a moment of confusion, but some folks figured it out and then he restated the pick as Thomas Harley. Harley isn't for everyone, but his puck rushing potential makes him a very good fit for the modern game and gives Dallas a potential fearsome top four on defense between Miro Heiskanen, John Klingberg, Esa Lindell, and Harley.
The rest of the first round served as a reminder that we know nothing and never will. I don't mean us at McKeens. We are, to a writer, brilliant analysts. But as humans, we know nothing. At 19, the Senators took a player who produced great numbers on a mediocre team in Kelowna, in blueliner Lassi Thomson. The Finnish import is a fine talent but lacks any one standout tool. It has worked for him so far, but we are not sure how translatable his performance will prove to be at the next level.
With the pick reacquired as part of the Jacob Trouba trade, the Winnipeg Jets went back to Finland, from where they drafted Kristian Vesalainen in the first round two years ago and continued the blueline run with the selection of defenseman Ville Heinola. What Heinola lacks in physical tools, he more than makes up for in hockey IQ with our own Marco Bombino rating him as the smartest Finnish prospect of this year's class.
At 21, Pittsburgh had the rare pleasure of making a first-round pick and used it on physical QMJHL winger Samuel Poulin, son of longtime NHLer Patrick. The pick was roughly where we had Poulin ranked and he offers a nice mix of skill, size and effort, although his foot speed is a bit lacking. What makes the pick interesting is that Poulin can now claim to have been the first player drafted out of the Q. We were not on an island ranking Raphael Lavoie as the top QMJHLer, but his fall was only just beginning.
With their second pick of the first round, the Kings followed up the selection of Turcotte with Swedish defenseman Tobias Bjornfot. Not the most exciting or dynamic defender, Bjornfot is another high flor prospect with a good two way presence and leadership in spades. He captained Sweden to the WU18 gold this year. He projects as a solid top four defender in a few years.
The Islanders followed the Kings to the Swedish junior ranks with the first forward drafted out of Sweden this year in dynamic winger Simon Holmstrom. I suspect that had he not missed a large chunk of his draft ear with injury that he could have been in consideration to have been picked significantly higher.
Another pick that roughly followed our rankings was Nashville's selection of Niagara center Philip Tomasino at 24. A fun player to watch, he pays bigger than his size and has the look of a potential future second line center. A good add to an organization that has been focused on the present at the expense of the future for a while.
Washington picked at 25 and they took a rare (for them) foray into the OHL to draft Connor McMichael from London. I had been hoping that McMichael would last to the second round if only to see Edmonton get him and have Connor McDavid and Connor McMichael but that would have been a big fall had McMichael lasted that long and the Capitals made sure my musings were redundant. He is not the most dynamic but has good hands and is a smart player. I expect a big year for him next year with the Knights.
The Flames went somewhat off the board at 26, a pick which also served as reminder that Raphael Lavoie was still on the board. Amidst a storm of boos from the partisan home crowd, Calgary selected Moncton firebrand Jakob Pelletier. We had questions about his top level, but he produced well in the Q and plays with infectious energy. We likely had him ranked too low.
Tampa then went and made a pick I found questionable at 27 in Nolan Foote, reuniting him in the organization with older brother Cal, a big defenseman they took in the first round in 2017. Like Cal, Noland plays a big, heavy game full of power, straight lines, and a lot of shots on net. Also, like Cal, there have long been questions about Nolan's foot speed. Considering also his late birthday, I see Foote as a safe pick when more upside was (and remains) available.
One of those upside plays was then selected at 28 by Carolina in the form of Ryan Suzuki. Like Foote above, Suzuki is the younger brother of a former first round pick, in Nick Suzuki, part of Vegas' initial draft class and a big part of the return to Montreal in the Max Pacioretty trade. Ryan is less consistent in all zones than Nick but might be more skilled. At one time the number one pick in the OHL Priority Selection, Ryan performed well for a poor Barrie team, but even he slowed down in the last portion of his draft year and an injury hampered him at the WU18 where he understandably underwhelmed. This could be a steal for Carolina if they are patient. Also, Tom Dundon was able to remain true to his word that the Hurricanes would not draft a defenseman in the first round.
The Anaheim Ducks selected again at 29 and made an off-the-board play for Moose Jaw winger Brayden Tracey, who lit it up for the Warriors this year, but many scouts, as well as our own Vince Gibbons, suspected that he may have been a product of playing often with more established veteran linemates in favorable situations, inflating his point totals. He has a lot of skill, but also a lot of rough edges to his game. He gives off a boom or bust vibe.
Picking 30 as a Stanley Cup finalist, amid an avalanche of jeers (the Canuck fans will never forget 2011), John Beecher's name was called out, the seventh USNTDP player picked in the first round, easily a record. The audience began to boo loudly as soon as Gary Bettman announced that the next pick was Boston's and they didn't stop until the Bruins' braintrust, along with their new first rounder, had left the stage. I later asked Beecher if he even heard his name being call, and he laughed knowingly, but nodded as he had been in deep discussions with the Bruins for a few days and seemed to anticipate this being his landing spot. He is very large and extremely fast and has offensive upside much higher than his role with the USNTDP this year.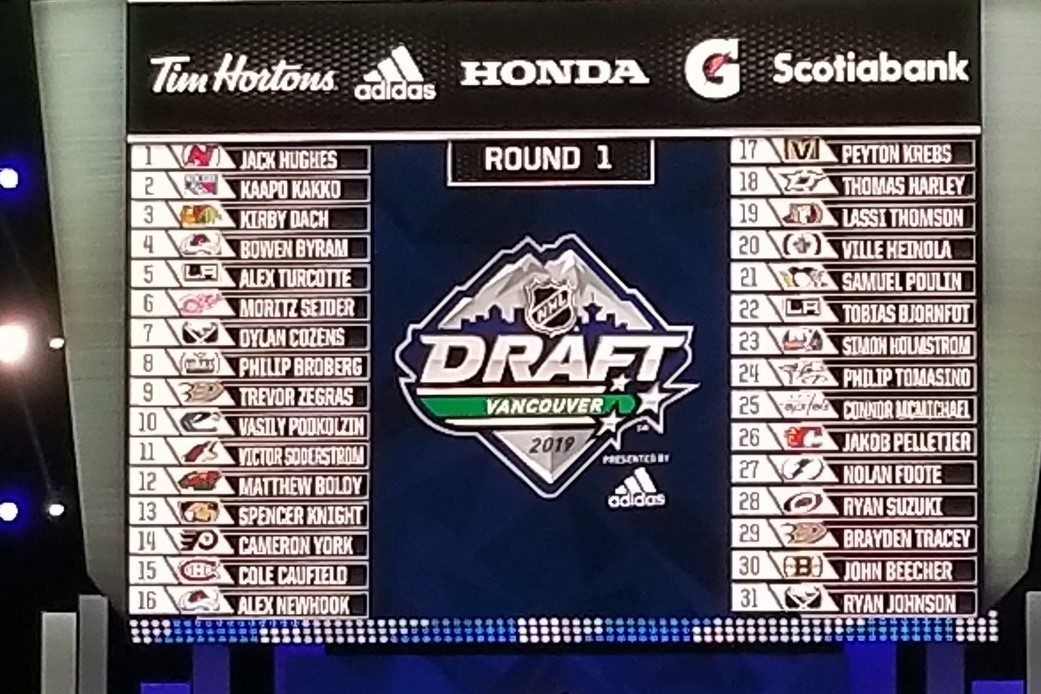 Finally, the Sabres ended the first round by avoiding the CHL again, this time for Sioux Falls defenseman Ryan Johnson, son of longtime NHLer Craig. Johnson will need at least three years in college. For one reason, he has the skills to be a solid offensive contributor, but he rarely uses them. He needs time to get comfortable at a new level and explore the limits of his ability. For another reason, he is very lean. He needs to fill out his frame in the worst way.
In the end, we nailed 25 of the 31 players drafted in the first round, and one of the ones we missed (Knight) was left off deliberately, due to our philosophy on drafting netminders.
The top prospects on our board heading into Day Two are:
Raphael Lavoie (I'm legitimately stunned he is still available)
Arthur Kaliyev (not so stunned, but he offers great value for the second round
Much more coverage will be following.