MCKEEN'S 2017 NHL DRAFT GUIDE - Learn more here!
Nico Hischier will make National Hockey League history as the first name called in Chicago at the 2017 NHL Entry Draft.
The New Jersey Devils hold the first overall selection having won the draft lottery, and will be looking at three prospects in particular who have risen to the top of the 2017 draft class.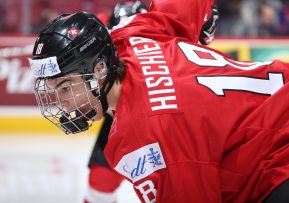 Hischier is a very attractive choice having 'checked all the boxes' during an outstanding North American debut with the Halifax Mooseheads. The native of Naters, Switzerland led all rookie scorers in the QMJHL and finished 10th in league scoring, while delivering strong performances for his country at both the U20 and U18 World Junior Championships (WJC).
A fast and dynamic skater with high-end puck skills, Hischier distinguished himself for his two-way diligence and his ability to contribute in every area of the ice and - by extension - the game. He possesses a high hockey IQ and is a very creative player combining both structure and innovation.
It will be an agonizing decision if New Jersey opts to pass on Hischier in favour of the other prime attraction - Nolan Patrick of the Brandon Wheat Kings.
The Winnipeg native entered the 2016-17 season as the consensus top choice after a standout season in which he tied for the league playoff scoring lead with 30 points in 21 games (13-17-30) and earned WHL Playoff MVP honours.
Patrick was injured during that playoff run however and underwent sports hernia surgery last July. His groin/abdominal problems would re-surface after playing in Brandon's opening five games, and sideline him for 34 games and force him to miss the U20 WJC.
Returning in January, Patrick still managed to finish fifth on the Wheat Kings in scoring with 20 goals and 46 points despite playing in just 33 games.
However he suffered another health setback late in the regular season - an unspecified upper-body injury - and missed the WHL playoffs.
Nolan Patrick would be the first Manitoban selected first overall in the NHL draft - with Nico Hischier set to become the first-ever Swiss-born player.
A third option emerged for New Jersey this spring at the U18 WJC where defenceman Miro Heiskanen turned in a commanding performance for Finland and effectively threw his hat into the ring.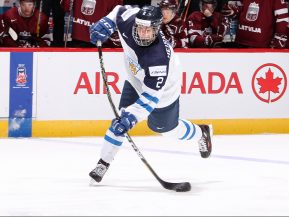 It makes some sense for the Devils to consider adding a potential building block on the blueline given the loss of Adam Larsson in last summer's Taylor Hall deal.
Heiskanen would be the first Finnish-born player to go first overall.
CENTRE STAGE
Gabriel Vilardi of the Windsor Spitfires sits at No. 4 on the McKeen's Top 125 - ranking the best prospects available for the 2017 NHL Entry Draft.
The 6-foot-3, 200-pound forward led Windsor with 29 goals and 61 points - in just 49 games - and then played a central role in helping the Spitfires win the Memorial Cup, highlighted by a four-assist performance in a win over the top-ranked Erie Otters.
Big, highly-skilled, and ultra competitive, Vilardi brings plenty of meat to the plate - but the skating has raised concerns about how impactful an NHLer he can be. Described as a 'knock kneed' skater, he will have to continue upgrading his quickness and explosiveness.
The Kingston, Ontario native can play on the wing but showcased at the Top Prospects Game in January that he is very effective playing in the middle.
The fifth-ranked prospect is Casey Mittelstadt, the top American-born player.
Mittelstadt ripped apart the high school circuit averaging 2.56 points per game (64 points in 25 games) and earning Minnesota's distinguished Mr. Hockey award as the state's top senior skater. He fell short though of leading his hometown Eden Prairie to a state championship, falling in the semi-finals.
Mittelstadt was questioned about returning for his senior year amid concerns that his development could be stunted. However, he helped allay some of those concerns with impressive stints in the USHL, wrapped around his high school season, recording 30 points in 24 games - for a 1.25 points-per-game average which was tops in the league.
Sharp-shooting winger Owen Tippett of the Mississauga Steelheads is next at No. 6.
The Peterborough, Ontario native infuriated with his inconsistent (and incomplete) defensive work habits but, at the end of the day, may be the best goal-scoring prospect in this draft class.
He finished fifth in the OHL with 44 goals and added another 10 goals in 20 playoff games.
Slick-skating defenceman Cale Makar of the Brooks Bandits is ranked seventh.
The Calgary, Alberta native was among this season's biggest risers - shooting up the draft chart and dazzling with his skating and skills while leading Brooks to the RBC Cup final.
Makar still has plenty of growing to do in terms of learning how to harness and deploy his exceptional talents. His education will be in good hands for his upcoming freshman season at the University of Massachusetts. Makar may benefit most by staying on the NCAA collegiate route for at least two years, though the lure of the NHL is all powerful.
Sorting out the rest of the top 10 has been a convoluted journey since the initial rankings were published last fall. That's not unusual - but this season the rankings seemed to be in a larger state of flux. There's not much to separate the next dozen or so players - all of whom could conceivably land a top 10 spot.
Cody Glass of the Portland Winterhawks was another big riser, moving up from 24th - in the preliminary ranking - to grab the No. 8 position.
A cerebral two-way pivot with good size and skill, the Winnipeg native led Portland and tied for seventh in WHL scoring during a spectacular breakout season - in which he more than tripled his rookie numbers from 2015-16.
Glass begins a run of centremen with seven of the next ten players being pivots; Michael Rasmussen (10th), Elias Pettersson (11th), Martin Necas (12th), Robert Thomas (15th), Nick Suzuki (16th), and Lias Andersson (17th).
KLIM PICKINGS
The wildcards for this year's draft will begin with swift-skating Swedish defenceman Timothy Liljegren
The native of Kristianstad, Sweden has been a prime name for 2017 since he was 16 years old - and was ranked No. 4 on our preliminary list. However, he was sidelined early by a bout of mononucleosis and struggled to find his game after returning.
There's no denying the physical gifts as he is a strong, fast skater with a good skill set featuring a heavy wristshot.
However, his hockey sense and overall decision making have continually come into question as the scrutiny on his game intensified. He doesn't seem to possess an innate feel for pressure and can be prone to stickchecks and turning pucks over on outlets. Can this part of his make-up develop and mature? Perhaps. It's a risk NHL teams must weigh before considering him as a top selection.
Another 'hot potato' pick will be Dynamo Moscow forward Klim Kostin who began the season at No. 5 in the rankings following a solid showing at the Ivan Hlinka Memorial. The Penza native captained Russia and led his team in scoring (5-4-3-7) while flashing an intriguing mix of size, skill and creativity.
He also put in a decent showing at the Canada-Russia series in November, albeit not enough for World Junior team coach Valeri Bragin to include him on the U20 roster. However, Kostin underwent season-ending shoulder surgery in January and missed an opportunity to further convince NHL scouts at the U18 WJC in April.
Strong and skilled with the puck, Kostin can create openings with his stickhandling and 1-on-1 abilities, but must work on his skating and consistency.
Eeli Tolvanen also watched his stock soften as the season progressed after beginning as a top 10 pick (8th).
The native of Vihti, Finland tied for third in the USHL with 30 goals and then helped Sioux City reach the Clark Cup Finals. Tolvanen possesses sharp offensive instincts and a lethal shot, yet there are concerns about how his slight frame and dimensional game will translate to higher levels.
No player fell further in the rankings this season than towering Russian winger Nikita Popugaev.
The Moscow native fired 19 goals in his first 25 games with Moose Jaw, however his play tailed off in December and he was dealt a month later to Prince George where he continued to sputter.
Popugaev brings great size at 6-foot-6 and 220 pounds as well as a strong shooting arsenal. His skating needs to come along though, particularly his footwork and overall agility.
But the bigger concern is how badly he wants it - as his work ethic and defensive play regressed to alarming levels over the second half.
PLENTY OF FINNISH
Finland gave advance warning that they would be a big factor at the 2017 NHL Draft when they captured gold at the 2016 U18 WJC.
It was Finland's first gold medal at the event since winning the first two tournaments in 1999 and 2000 - and was accomplished with a predominantly underage blueline.
They followed up this year at the U18's with a silver medal, led by the splendid duo of Miro Heiskanen and Urho Vaakanainen.
Heiskanen's exploits were well chronicled, however Vaakanainen's play may have turned just as many NHL heads. His smooth skating, subtle skills, and innate feel for the game were on full display throughout.
Vaakanainen could turn out to be one of the best players from this draft.
Expect the Finns to be high profile at this draft - as they could place up to seven players in the opening round plus another half dozen in the second.
In all, there are 16 Finnish-born players in the McKeen's Top 125 including a number of potential sleepers such as Joni Ikonen (59th), Aleksi Heponiemi (65th), Emil Oksanen (76th) and U18 WJC captain Aarne Talvitie (77th).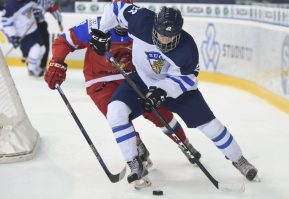 Gritty two-way centre Santeri Virtanen threw his name into the ring with an impressive showing at the U18 WJC after missing most of the season to injury.
His late rise wasn't a total surprise as he had initially been slotted as a potential 50-70 pick after a good showing at the Ivan Hlinka last fall.
| RANK | PLAYER | POS | TEAM | HT/WT | DOB | Nation |
| --- | --- | --- | --- | --- | --- | --- |
| 1 | Nolan Patrick | C | Brandon (WHL) | 6-2/200 | 19-Sep-98 | Canada |
| 2 | Nico Hischier | C | Halifax (QMJHL) | 6-1/175 | 4-Jan-99 | Switzerland |
| 3 | Miro Heiskanen | D | HIFK Helsinki (Fin) | 6-0/170 | 18-Jul-99 | Finland |
| 4 | Gabriel Vilardi | C | Windsor (OHL) | 6-3/200 | 16-Aug-99 | Canada |
| 5 | Casey Mittelstadt | C | Eden Prairie (USHS-MN) | 6-1/200 | 22-Nov-98 | USA |
| 6 | Owen Tippett | RW | Mississauga (OHL) | 6-1/200 | 16-Feb-99 | Canada |
| 7 | Cale Makar | D | Brooks (AJHL) | 5-11/180 | 30-Oct-98 | Canada |
| 8 | Cody Glass | C | Portland (WHL) | 6-2/180 | 1-Apr-99 | Canada |
| 9 | Kristian Vesalainen | LW | Frolunda (Swe) | 6-3/205 | 1-Jun-99 | Finland |
| 10 | Michael Rasmussen | C | Tri-City (WHL) | 6-6/215 | 17-Apr-99 | Canada |
| 11 | Elias Pettersson | C | Timra (Swe 2) | 6-2/165 | 12-Nov-98 | Sweden |
| 12 | Martin Necas | C | Kometa Brno (Cze) | 6-0/170 | 15-Jan-99 | Czech |
| 13 | Urho Vaakanainen | D | JyP Jyvaskyla (Fin) | 6-0/185 | 1-Jan-99 | Finland |
| 14 | Juuso Valimaki | D | Tri-City (WHL) | 6-2/205 | 6-Oct-98 | Finland |
| 15 | Robert Thomas | C | London (OHL) | 6-0/190 | 2-Jul-99 | Canada |
| 16 | Nick Suzuki | C | Owen Sound (OHL) | 5-11/185 | 10-Sep-99 | Canada |
| 17 | Lias Andersson | C | HV 71 (Swe) | 5-11/200 | 13-Oct-98 | Sweden |
| 18 | Isaac Ratcliffe | LW | Guelph (OHL) | 6-5/200 | 15-Feb-99 | Canada |
| 19 | Erik Brannstrom | D | HV 71 (Swe) | 5-10/175 | 2-Sep-99 | Sweden |
| 20 | Timothy Liljegren | D | Rogle (Swe) | 6-0/190 | 30-Apr-99 | Sweden |
| 21 | Klim Kostin | C | Dynamo Moscow (Rus) | 6-3/195 | 5-May-99 | Russia |
| 22 | Eeli Tolvanen | RW | Sioux City (USHL) | 5-10/175 | 22-Apr-99 | Finland |
| 23 | Conor Timmins | D | Sault Ste Marie (OHL) | 6-1/185 | 18-Sep-98 | Canada |
| 24 | Kailer Yamamoto | RW | Spokane (WHL) | 5-8/160 | 29-Sep-98 | Canada |
| 25 | Jason Robertson | LW | Kingston (OHL) | 6-2/195 | 22-Jul-99 | USA |
| 26 | Ryan Poehling | C | St. Cloud State (NCHC) | 6-2/195 | 3-Jan-99 | USA |
| 27 | Nicolas Hague | D | Mississauga (OHL) | 6-6/215 | 5-Dec-98 | Canada |
| 28 | Josh Norris | C | NTDP (USA) | 6-1/195 | 5-May-99 | USA |
| 29 | Shane Bowers | C | Waterloo (USHL) | 6-1/185 | 30-Jul-99 | Canada |
| 30 | Cal Foote | D | Kelowna (WHL) | 6-4/215 | 13-Dec-98 | USA |
| 31 | Henri Jokiharju | D | Portland (WHL) | 6-0/180 | 17-Jun-99 | Finland |