Anaheim
Ryan Miller – Missed Wednesday's practice and Thursday's preseason game with an upper-body injury.  It's not clear if he's in any danger of missing the season opener or not.
Kevin Bieksa – In the same boat as Miller, in which I mean he missed the practice and game, but beyond that we don't know much.  The difference is Bieksa has a lower-body injury.
Ryan Getzlaf – Was also kept out of Thursday's preseason game due to an ailment and we also don't know much here.  All three cases are wait-and-see, but we might get a better sense of things on Saturday given that it will be the Ducks' last preseason game, so it will be interesting to see if one or more of the three can participate.
Arizona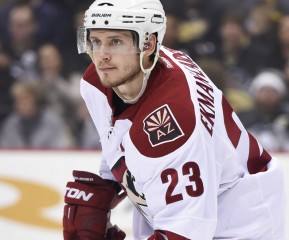 Oliver Ekman-Larsson – Latest on his knee injury is that he skated for roughly 35 minutes with an assistant coach on Thursday.  Still appears to be questionable for the season opener.
Zac Rinaldo – He's got a real shot of making the team, which would be noteworthy for those in fantasy leagues that use PIM as a category.  He still has a five-game suspension he'd need to serve though if he does make the team (that incident took place back on Feb. 28, 2016 when he last participated in an NHL contest), so he wouldn't be available for the season opener.
Buffalo
Jordan Nolan – Not too noteworthy, but he was claimed off waivers by Buffalo.  He's probably just going to end up being used as a fourth liner though.
Carolina
Justin Williams – He's been skating on a line with Teuvo Teravainen and Jordan Staal.  It looks like for tonight's preseason game Janne Kuokkanen will be replacing Teravainen on that line, but that's because Teravainen won't be in the lineup.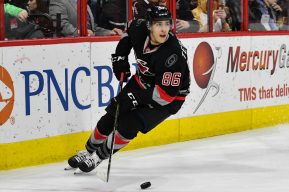 Teuvo Teravainen – Speaking of that, Teravainen didn't play in the third period of Wednesday's contest either.  It's being billed as more precautionary than anything though, so unless there's more here than meets the eye, I would assume he'll be available for the season opener.
Lee Stempniak – Still has a hip/back injury and this whole has been on the vague side.  Stempniak undergoing an MRI was mentioned last week, but Hurricanes coach Bill Peters said he didn't know the results.  What we do know is that he won't play in Friday's preseason game.
Chicago
Jan Rutta – He's kind of a neat story.  The defenseman is 27-years-old and has never played professionally in North America, but it looks like he's actually won a spot with the Chicago Blackhawks out of training camp.  He had eight goals and 32 points in 46 Czech league games last season.
Michal Rozsival – Not much of an update, but more of a no news probably is bad news scenario.  He didn't pass his training camp physical (upper body) and his status remains unchanged, so he'll probably start the season on the injured reserve.
Colorado
A.J. Greer – Will probably start the season on the injured reserve list due to a concussion.  The good news is that he's started skating on his own.
Joe Colborne – He might not be available for the start of the season either due to his back injury.  Colborne also didn't play in any preseason games.  It's not clear if he'll be with the Avalanche once he's healthy or be sent to the minors.
Jonathan Bernier – Sustained a groin injury on Monday and hasn't been practicing with the Avalanche as a result.
Columbus
Josh Anderson – He's still not signed and on Thursday there were reports that he requested a trade (which, it should be noted, Columbus GM Jarmo Kekalainen has denied).
Detroit
Henrik Zetterberg – He hasn't played in a preseason game yet because of a neck injury, but he'll make his debut on Friday.  His projected lineamtes are Gustav Nyquist and Tomas Tatar.
Nick Jensen – A thumb injury will keep him out of Detroit's last two preseason games on Friday and Saturday.  It's not clear if he'll still be available for the season opener.
Niklas Kronwall – Had been dealing with a back injury, but he got into Thursday's exhibition game, so it looks like that's behind him.
Edmonton
Ryan Strome – He had been used on a line with Connor McDavid previously, but for Thursday and Friday's practice, Strome has instead been centering the third line with Jussi Jokinen and Drake Caggiula.  Oilers coach Todd McLellan seems to like Strome as a center, but obviously Strome's best chance at having a big season would be with McDavid.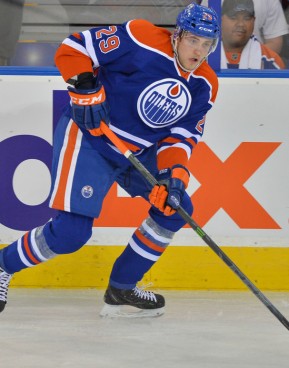 Leon Draisaitl – McLellan has already reunited the line of Leon Draisaitl, McDavid, and Patrick Maroon.  Earlier in the preseason, Edmonton had been experimenting with separating Draisaitl and McDavid.
Minnesota
Zach Parise – Remains questionable for the season opener.  He didn't participate in Thursday or Friday's practice though, so that's not a good sign.
Nashville
Viktor Arvidsson – While Ryan Johansen and Filip Forsberg are projected to start the season together on the top line, Arvidsson might not end up as part of that trio this time.  Kevin Fiala and Scott Hartnell are also in the running for that spot.  This could have a meaningful amount of fantasy impact depending on which one of the three ends up on that top line.
New Jersey
Brian Boyle – Has been skating on his own, but he won't start practicing with the Devils until Wednesday at the earliest.  He might still end up playing in the season opener despite that.
Nico Hischier – He scored a goal in each of his four preseason games.  While that has to be taken with a grain of salt, what is particularly noteworthy is that Devils coach John Hynes feels Hischier has earned a top-six spot.
NY Rangers
Filip Chytil – Defying the odds, Chytil seems to have secured a roster spot with the Rangers.  Not only that, but he might open the season on a line with Rick Nash and Mats Zuccarello.
NY Islanders
John Tavares – Just as an aside, teams have reportedly been told not to bother inquiring about Tavares until January 1 at the earliest.  He wasn't expected to be traded during the preseason or early portion of 2016-17 anyways – if he's dealt at all – but this news just reinforces that.
Ottawa
Craig Anderson – He's signed a two-year, $9.5 million extension.  Obviously that doesn't impact things much this season, which means that the Senators now have two veteran goalies signed through 2019-20 in him and Mike Condon.
Colin White – He blocked a shot during a preseason game and underwent wrist surgery as a result.  He'll start the season on the injured reserve list as he'll be out for six-to-eight weeks.
Erik Karlsson – Was on the ice with the Senators on Friday, albeit while wearing a no-contact jersey.  He's doubtful for the season opener.
Philadelphia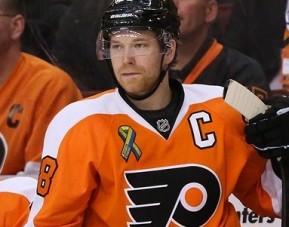 Claude Giroux – The Flyers have continued to experiment with using Giroux as a left winger and Flyers coach Dave Hakstol has been happy with the results.  As previously mentioned, if he does shift to the left wing then that would create an opening for Sean Couturier to center a top line that would also include Jakub Voracek.
Pittsburgh
Jake Guentzel – It comes with the standard disclaimer about preseason stats of course, but for what it is worth, Jake Guentzel has three goals and nine points in three preseason games.  That's enough to lead the league in exhibition points.
Patric Hornqvist – Is still dealing with a hand injury.  He's been skating, but not practicing.  It's still possible that he'll play in the season opener, but Penguins coach Mike Sullivan wants to be cautious with him.
Justin Schultz/Kris Letang – When it comes to which one of the two will play on the top power-play unit, Sullivan talked about it being a fluid process.  It could come down to who is better rested at the time or what Sullivan feels is best at that stage of the game.
St. Louis
Robby Fabbri – We already talked about this after I sent you my last update, but of course Fabbri tore his ACL again and will need to have surgery.  He's been ruled out for the playoffs as well as the regular season.
Scottie Upshall – It's not official yet, but the St. Louis Blues have reportedly signed Upshall, which makes some sense given their injury issues.  Upshall played for the Blues in each of the previous two seasons, but after going unsigned over the summer he joined the Canucks' training camp on a PTO.
Toronto
Patrick Marleau – Maple Leafs coach Mike Babcock has expressed displeasure in the trio of Marleau, Nazem Kadri, and Leo Komarov.  Babcock liked how they were doing in the early part of camp, but he feels that group can be way better, quicker, and more diligent.  He's looking for them to develop more chemistry with each other.  Perhaps that line will be broken up if Babcock doesn't see improvements.