Anaheim
Patrick Eaves – He hasn't been skating due to a lower-body injury and hasn't played in a preseason game yet.  The hope is to get him into a practice and then an exhibition contest, but at this point it's worth keeping an eye on.
Corey Perry/Ryan Getzlaf – It looks like they might enter the season paired together, possibly with Eaves if he's healthy.
Rickard Rakell – I mentioned in the last notes that Antoine Vermette might end up centering Andrew Cogliano and Jakob Silfverberg in Kesler's absence.  However, that role might go to Rakell instead so that's a situation to monitor.
Arizona
Louis Domingue – Suffered an upper-body injury on Monday and was consequently yanked, though the Coyotes said it was for "precautionary reasons."  I don't think they've updated his status since then, but of course if that injury ends up being more serious then Arizona might need to open the season with a different backup goaltender (Marek Langhamer maybe?  I don't know if Hunter Miska's an option straight out of the NCAA).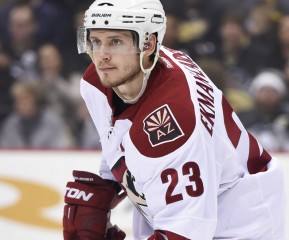 Oliver Ekman-Larsson – Sustained a knee injury and is day-to-day as a result.  He needed to be helped off the ice at the time, but fortunately it looks like it's not too serious.  He's questionable for the opener though.
Boston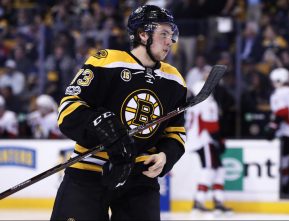 Charlie McAvoy – As mentioned last time, Torey Krug will miss the start of the preseason with a jaw injury.  It looks like McAvoy will see increased power-play responsibilities as a result.  Krug could miss as little as three regular season games, but it's also possible that he'll miss significantly more (what we know is that he'll be out a minimum of three weeks from Sept. 20).
Buffalo
Jake McCabe – McCabe is week-to-week with an upper-body injury, but Sabres coach Phil Housley is still optimistic that of his chances of being available for the opener so we'll see.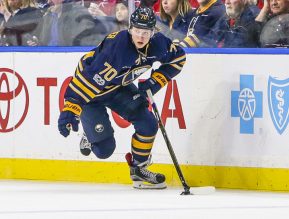 Alexander Nylander – I mentioned last time that he hadn't skated due to a lower-body injury sustained on Sept. 8.  He's apparently starting to feel better, but he's already missed a big chunk of training camp.
Calgary
Michael Stone – He might end up on the third pairing as T.J. Brodie and Travis Hamonic seem to be the likely second unit while Mark Giordano and Dougie Hamilton will probably be the first pairing.  Stone's offensive contributions this season could be rather limited.
Chicago
Patrick Sharp – Not sure if this is worth mentioning because of the uncertainty attached to it, but Sharp did practice on a line with Nick Schmaltz and Patrick Kane on Sunday.  However, he's also been experimented on as part of the third line with Artem Anisimov and Ryan Hartman so it's still unclear if Sharp will get the opportunity to start the campaign in a top-six role.
Columbus
Nick Foligno – He served as a center on Sunday while Oliver Bjorkstrand and Pierre-Luc Dubois were his wingers.  Blue Jackets coach John Tortorella said he wanted to keep looking at Foligno as a center, but this could just be one of those training camp experiments that go nowhere as far as the regular season is concerned.
Alexander Wennberg – Not that it comes as a big surprise, but it's looking like he might open the season on a line with Artemi Panarin and Cam Atkinson.  That's a line that would have a lot of potential fantasy value.
Dallas
Martin Hanzal – He's been dealing with an ankle injury, but he got into his first practice of training camp on Saturday and is likely to appear in the Stars' last preseason game, so it looks like he'll be fine for the start of the regular season.
Detroit
Tyler Bertuzzi – Is out three-to-four weeks (as of Sept. 23) because of wrist inflammation.  He was a candidate to make the squad out of training camp, but now he might end up starting in the AHL once he's healthy.
Martin Frk – Between Bertuzzi getting hurt and Andreas Athanasiou being unsigned, Frk might end up making the squad.  Might not be fantasy relevant information, though he did have 50 points in 65 AHL games last season.
Edmonton
Kailer Yamamoto – Has five goals and six points in four preseason games.  He's making a stronger case for a roster spot than anticipated, but his small size and the fact that the Oilers aren't exactly hurting for skilled forwards right now could still result in him being returned to the WHL.  The odds of him at least getting a nine-game trail have gone up though.  Also, for what it's worth, he did practice with Connor McDavid and Patrick Maroon on Tuesday, though I'd sooner bet on Ryan Strome getting the third spot on that top line.
Los Angeles
Marian Gaborik – He's making progress in his rehab from a knee injury and has practiced with the Kings, but he's not fully cleared yet.  I'm not sure if he's going to end up playing in the opener or not.
Minnesota
Tyler Ennis – For what it's worth, Ennis is aiming to get back to scoring 20 goals a season, provided he can stay healthy.  In addition to his injury history though, the other road block is that he's likely to start the season in a bottom-six role.
Montreal
Jonathan Drouin – Didn't play on Monday due to an upper-body injury.   He's day-to-day, so perhaps he'll be fine by the time the season starts.
New Jersey
Nico Hischier – I mentioned last time that he's been a training camp standout and that's continued with him netting a goal and an assist on Monday, giving him four points in three preseason games.  As always training camp stats are an unreliable metric, but he's certainly helping to drive up the intrigue that surrounds a first overall pick.
NY Rangers
Filip Chytil – Rangers coach Alain Vigneault has been impressed by Chytil to the point where there's a real shot of him making the team.  It might just be for a nine-game trial, but it'd still be impressive for an 18-year-old, 21st overall pick.
Lias Andersson – Similar to Chytil, Andersson has caught Vigneault's attention and is in the running to make the squad at the age of 18.  That said, he didn't play in Tuesday's preseason game because of a sore foot from a shot he blocked on Monday.
Ottawa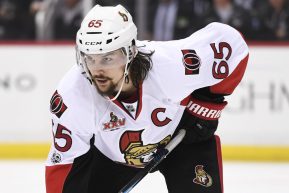 Erik Karlsson – Resumed skating on Saturday, but he was rested for a little while after that.  The plan was to have him skate again today (Wednesday).  There's still a chance that he'll be ready for the start of the regular season, but obviously time is running out in that regard.
Philadelphia
Claude Giroux – I mentioned last time that Claude Giroux was being tested out in practice as a left winger.  On Monday the Flyers pushed that experiment to the next level by having him play in a preseason game as a winger alongside Sean Couturier and Jakub Voracek.  The Flyers stuck with that line for Tuesday's contest as well.  If Giroux does start the campaign as a left winger then Couturier would be the big benefactor as he'll be moving from a potential third- to first-line role.
Pittsburgh
Kris Letang – Got into Sunday's preseason game, which was his first contest since Feb. 21.  Letang was happy with how it went, but the main thing is that he's got that behind him.
San Jose
Joel Ward – He hasn't gotten into a preseason game yet after undergoing offseason shoulder surgery.  He's been practicing though and the Sharks do have three exhibition contests left, so he still has time to test his shoulder before the regular season starts.
St. Louis
Robby Fabbri – Will miss the entire 2017-18 season, the St. Louis Blues announced after re-injuring his surgically repaired knee. A huge blow to banged up Blues.
Tampa Bay
Brayden Point – The Lightning have been experimenting with a top line of Point, Steven Stamkos, and Nikita Kucherov.  Point seems to be the one most likely to benefit from that arrangement if that trio is still together once the regular season starts.
Vancouver
Brock Boeser – He's been tested on the top line with the Sedin twins and that could end up being his role at the start of the season.  For what it's worth, Boeser has four goals and six points in three preseason games.
Vegas
James Neal – He's been making progress in his recovery from a hand injury and that included participating in Tuesday's practice.  It's still not clear if he'll be ready for the season opener though.
Vadim Shipachyov – He might end up headlining the top line that could also feature Reilly Smith and Jonathan Marchessault.  Not sure if Neal being healthy would change that any.
Washington
Evgeny Kuznetsov – Given that Marcus Johansson is no longer with the Capitals, it's looking like Kuznetsov will enter the season on their top power-play unit.