One of the first lessons I learned when I began scouting a number of years ago was that draft eligible prospects generally start to make their marks after Christmas of their draft year.
Around two months ago (Dec. 8), we released a snapshot of the 2018 draft class, walking through the 62 strongest prospects at the time. Since then, all of the 62 have had plenty of chances to make their marks. In addition to the weeks and weeks of regular season action they all had, some were also afforded the showcase of appearing in the World Junior Championships, while others fought to be included in the CHL and USHL Top Prospect Games or the World Junior A Challenge.
Some of the WJC combatants were already considered to be at or around the top of the draft class, including each of the top four of our Mid-Season ranking. Others found themselves in the spotlight by virtue of holding nationalities that do not have the depth of talent in their age 19 class as we found with the Gold Medal winners from Canada, from which the entire roster consisted of previously drafted players.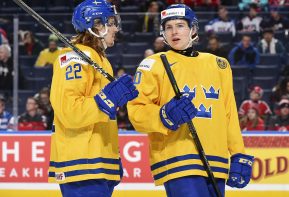 While an appearance at the WJC will only go so far for most of the prospects of Denmark, Switzerland, or Belarus, for players like the Czech Republic's Martin Kaut (#31) and Kristian Reichel (#83), Slovakia's Milos Roman (#57), Sweden's Isac Lundestrom (#14), and others, players who came into the tournament with some expectations and managed to exceed them, they were able to ensure that they will be front of mind for scouting staffs through the end of the season. In fact, three of those players have seen their respective places in our rankings rise between December and now. The fourth, Milos Roman, did not fall all that much, and that can be explained largely with an injury that has limited him to a single game played since the tournament ended.
Speaking of movement in the lists, we can report that each member of the previous version of this list, which went 62 deep, is still in the mid-season top 100. Only four of those 62, Nando Eggenberger (#76), Olivier Rodrigue (#78), Marcus Westfalt (#86), and Adam Samuelsson (#95) are now lower than 75. Even though Eggenberger had a poor WJC and Rodrigue failed to impress in the CHL's Top Prospect game, the midseason marquee event of Canadian Junior hockey, the current rankings of those four is more a reflection of other players making bigger moves than they have. All still profile as draftable prospects of note. If anything, they still have more to prove before late June in Dallas.
One of the two biggest jumps in the past two months belong to the aforementioned Kaut, who was fantastic at the WJC, showing a wide range of skills, plus hockey IQ and even a bit of a physical game to boot. He jumped up from 55 in December to 31 now and some in our scouting team felt that we may still be underrating him. Climbing only 21 spots, but more impressive as he started off at a higher level in December than Kaut is now, is London blueliner Evan Bouchard (#7). At the time, there were some concerns about his foot speed. Not only has he put those concerns to rest with steady displays of solid top end velocity, showing his ability to defend against rushes from some of the players long considered to be among the quickest in the OHL, but between his plus shot, advanced hockey brain and quarterbacking style, it is no real surprise that he is currently seven points clear as the highest scoring blueliner in the OHL.
The highest ranked newcomer to the list is Swedish defenseman Nils Lundkvist (#40), who had a scouting report from our own Jimmy Hamrin posted just last week. Although undersized, Lundkvist is mobile, moves the puck ably and has exceptional hockey IQ. Others debuting in the top 50 include Jakub Lauko (#44) a teammate of Kaut's from the Czech WJC squad, Stanislav Demin (#45) a blueliner from the BCHL who impressed in the WJAC, and Niklas Nordgren (#49) an undersized, yet silky skilled winger who has been tearing up the Finnish junior ranks.
When I mentioned above that draft eligible prospects begin to make their marks after Christmas, that does not mean to suggest that we feel this present snapshot will be an accurate representation of how things ultimately shake out in June. There are some players who start the year hot and then slowly peter out. We may think we are viewing a rough mid-season patch and for some, they will never recover. Eggenberger is one. Xavier Bouchard (#62), who looked like a strong second tier draft prospect from the QMJHL two months ago, has contributed only two points since the calendar flipped to 2018. He is not an offensive blueliner, but more is expected.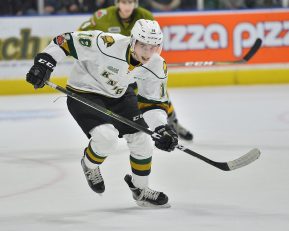 Other players started off very slowly and have been hot of late, getting themselves some mid-season recognition. One such player we debated at length was Liam Foudy (#82). When we released our December rankings, he had played 27 games and had put up a mere five points. Since then, in 23 games, he has 19 points, a period highlit by a strong showing at the CHL Top Prospect Game. In his case, it seems that London's decision to sell off a large number of their regular top six forward options has given Foudy the chance to play in an offensive role and he has thus far flourished, to the extent that he was just named the OHL Player of the Week on the morning of this writing. He is a great skater and if he can keep this level of offensive production up for a few more weeks, showing that his recent play has not just been a flash in the pan, he will likely rocket up the list.
As we continue to scout the junior aged prospects of the world, this draft list will change again and again. In addition to extending our list to 100 as we pass the mid-season point for all leagues, we have also included a group of 25 others who had some fans about the McKeens scouting squad. As the intensity of the season rises with many teams and players jockeying for a post-season berth, some of the 125 players listed here will see their respective stocks go up and others will go down. Players who we may have skipped over in November and January will force us to pay attention in March and April. From now until draft weekend, we will continue to post scouting reports of the players you need to know about for the 2018 draft. We welcome your questions and comments and hope you enjoy the ride with us.
Here is our mid-season top 31 ranking for the 2018 NHL Draft. For subscribers the full list of 100 plus honourable mentions can be found here - Top 100 2018 NHL Draft - Mid Season.  If you are interested in a subscription, you can learn more here - $9.99 for three months access, plus any downloads we release. We publish a 2018 NHL Draft Guide on June 1st, 2018 and our 24th anniversary of the McKeen's Hockey Pool Yearbook on September 1st, 2018.
| RK | PLAYER | POS | TEAM | HT/WT | DOB | GP-G-A-PTS |
| --- | --- | --- | --- | --- | --- | --- |
| 1 | Rasmus Dahlin | D | Frolunda (Swe) | 6-2/185 | 13-Apr-00 | 35-6-11-17 |
| 2 | Filip Zadina | RW | Halifax (QMJHL) | 6-0/200 | 27-Nov-99 | 44-35-28-63 |
| 3 | Andrei Svechnikov | RW | Barrie (OHL) | 6-2/185 | 26-Mar-00 | 32-30-18-48 |
| 4 | Brady Tkachuk | LW | Boston University (HE) | 6-3/195 | 16-Sep-99 | 29-7-16-23 |
| 5 | Adam Boqvist | D | Brynas (Swe Jr) | 5-11/170 | 15-Aug-00 | 23-14-7-21 |
| 6 | Oliver Wahlstrom | RW | NTDP (USA) | 6-1/205 | 13-Jun-00 | 38-31-22-53 |
| 7 | Evan Bouchard | D | London (OHL) | 6-2/195 | 20-Oct-99 | 52-18-48-66 |
| 8 | Noah Dobson | D | Acadie-Bathurst (QMJHL) | 6-3/180 | 7-Jan-00 | 53-13-42-55 |
| 9 | Quinn Hughes | D | Michigan (B1G) | 5-10/175 | 14-Oct-99 | 27-3-15-18 |
| 10 | Ty Smith | D | Spokane (WHL) | 5-10/180 | 24-Mar-00 | 53-9-47-56 |
| 11 | Joe Veleno | C | Drummondville (QMJHL) | 6-1/195 | 13-Jan-00 | 49-14-48-62 |
| 12 | Joel Farabee | LW | NTDP (USA) | 5-11/165 | 25-Feb-00 | 38-19-25-44 |
| 13 | Bode Wilde | D | NTDP (USA) | 6-2/195 | 24-Jan-00 | 38-7-17-24 |
| 14 | Isac Lundestrom | C | Lulea (Swe) | 6-0/185 | 6-Nov-99 | 35-6-9-15 |
| 15 | Grigori Denisenko | LW | Loko Yaroslavl (Rus Jr) | 5-11/165 | 24-Jun-00 | 23-4-10-14 |
| 16 | K'Andre Miller | D | NTDP (USA) | 6-3/205 | 21-Jan-00 | 38-6-12-18 |
| 17 | Barrett Hayton | C | Sault Ste Marie (OHL) | 6-1/190 | 9-Jun-00 | 52-18-31-49 |
| 18 | Jared McIsaac | D | Halifax (QMJHL) | 6-1/195 | 27-Mar-00 | 53-7-30-37 |
| 19 | Akil Thomas | RW | Niagara (OHL) | 5-11/170 | 2-Jan-00 | 53-15-47-62 |
| 20 | Ryan McLeod | C | Mississauga (OHL) | 6-2/200 | 21-Sep-99 | 52-18-36-54 |
| 21 | Jesperi Kotkaniemi | C | Assat Pori (Fin) | 6-1/190 | 6-Jul-00 | 52-8-17-25 |
| 22 | Serron Noel | RW | Oshawa (OHL) | 6-5/200 | 8-Aug-00 | 48-21-19-40 |
| 23 | Rasmus Kupari | C | Karpat Oulu (Fin) | 6-1/185 | 15-Mar-00 | 31-5-5-10 |
| 24 | Jacob Olofsson | C | Timra (Swe 2) | 6-2/190 | 8-Feb-00 | 38-9-11-20 |
| 25 | Ryan Merkley | D | Guelph (OHL) | 5-11/170 | 14-Aug-00 | 50-12-44-56 |
| 26 | Jett Woo | D | Moose Jaw (WHL) | 6-0/205 | 27-Jul-00 | 30-8-15-23 |
| 27 | Benoit-Olivier Groulx | C | Halifax (QMJHL) | 6-1/195 | 6-Feb-00 | 55-21-20-41 |
| 28 | Alexander Alexeyev | D | Red Deer (WHL) | 6-3/200 | 15-Nov-99 | 37-6-25-31 |
| 29 | Mattias Samuelsson | D | NTDP (USA) | 6-3/215 | 14-Mar-00 | 34-6-13-19 |
| 30 | Jack McBain | C | Toronto Jr Canadiens (OJHL) | 6-3/195 | 6-Jan-00 | 44-19-33-52 |
| 31 | Martin Kaut | RW | Pardubice (Cze) | 6-1/175 | 2-Oct-99 | 35-5-6-11 |