Boston Bruins
The Bruins have a number of veterans that have been working through injuries during training camp, which has raised some questions about who will be available for the season opener.  Fortunately, the news is largely good on that front.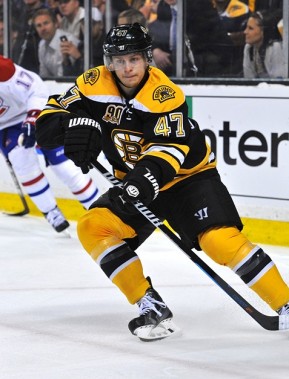 Torey Krug suffered a fractured ankle in Game 4 of Boston's second round series against Tampa Bay and that injury was still a factor when camp started.  However, he got into his first preseason game on Wednesday, so it looks like he'll be fine for the start of the season.  His most likely defensive partner is Brandon Carlo, especially after the decision to trade Adam McQuaid to the Rangers on Sept. 11.
Wednesday's contest was also Noel Acciari's (sports hernia) first exhibition game of the year.  He said after the game that he felt good so it seems reasonable to believe he'll also be ready for the season opener.
The jury is still out on forwards Sean Kuraly (lower body) and Patrice Bergeron (back spasms) though.  Kuraly and Bergeron have both been skating recently, but not practicing.  In the case of Bergeron, he might resume practicing on Friday.  If all goes well, he will be in the lineup for the season opener, but if that doesn't happen then it will likely be David Backes that temporarily takes Bergeron's place on the top line with Brad Marchand and David Pastrnak.
Buffalo Sabres
The Sabres certainly don't have a shortage of exciting young players, but one that might get lost in the crowd a bit is Tage Thompson.  The Sabres picked the 20-year-old up from St. Louis as part of the Ryan O'Reilly trade and he went into training camp with a real shot of making the team.  Nothing has been finalized yet, but so far Thompson has made a strong impression with a goal and three points in three preseason games.
He's been given looks with a lot of different linemates.  On Sept. 17 he was on a line with Alex Nylander and Patrik Berglund before firing five shots on Sept. 22 while playing alongside Jack Eichel and Jeff Skinner.  Buffalo didn't dress many veterans for Wednesday's contest, but Thompson was paired with Zemgus Girgensons and Casey Mittelstadt.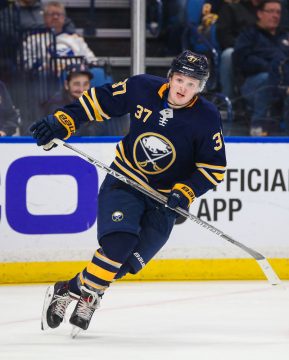 Speaking of Mittelstadt, this training camp has been something of a mixed bag for him.  The hope going into training camp was that he would be the Sabres' new number two center in the post-Ryan O'Reilly era.  That might be where Mittelstadt ends up eventually, but perhaps expectations were a bit too high for the 19-year-old in the short-term.  Berglund might get that number two slot instead while Mittelstadt begins the season as the third-line center.
Of course, the player attracting the most interest at the Sabres' camp is first overall pick Rasmus Dahlin.  He's made some mistakes, but of course he should also be one of the most exciting rookies this season.  We're still waiting to see who his defensive partner will be though.  Initially it looked like Jake McCabe would get that job, but he was paired with Casey Nelson instead on Tuesday while McCabe played with his old partner, Zach Bogosian.
Detroit Red Wings
Detroit got some terrible news at the start of training camp when it was revealed that Henrik Zetterberg's career is over due to a back condition.  He was one of the last remaining connections to Detroit's 2008 Stanley Cup Championship and in that way, his retirement further closes the book on one of the best era's in the franchise's long history.
In contrast to those times, the Red Wings have fallen short of the playoffs in back-to-back seasons and while there some long-term hope for the franchise, the 2018-19 edition likely isn't going to have much success.  Filip Zadina is a good example of that as the sixth overall pick in the 2018 NHL Entry Draft has a lot of promise, but likely hasn't done enough in training camp to prove that he's already NHL-ready.  Instead, the Red Wings might take advantage of the fact that Zadina is eligible to be sent to AHL Grand Rapids rather than return to QMJHL Halifax.  That would allow Zadina to get key minutes against men and still leave the door open to Detroit calling him up as warranted.
Evgeny Svechnikov might be ready though.  He was taken with the 19th overall pick in 2015, but he left plenty to be desired in 2017-18 with 23 points in 57 AHL contests.  In the long run, he's probably a top-nine forward, but he's put himself in the conservation for a fourth line spot with the Red Wings to start the season.
Tyler Bertuzzi is set to not only make the team, but play a prominent role.  Based on what's happened in the preseason thus far, he could very well be part of Detroit's top line alongside Dylan Larkin and Anthony Mantha.  Bertuzzi scored seven goals and 24 points in 48 games with Detroit last season so he's already got a good amount of NHL experience on his resume, but 2018-19 is likely to be his first full campaign at the top level.
Right now, the biggest question marks are with Detroit's defense.  Mike Green is fortunately believed to be over the worst of the viral infection that led to him being shut down, but there's still no timetable for his return.  Red Wings GM Ken Holland recently said that the plan was for Green to be tested on a bike and then they'll go from there.  As things are right now, it seems entirely possible that he won't be ready for the start of the regular season.
Trevor Daley, Danny DeKeyser, and Jonathan Ericsson are all dealing with unspecified injuries and while none of the three defensemen are believed to be seriously hurt, they are all questionable for the season opener.  In other words, Detroit is looking at a worst-case scenario where it will enter the season without four of its top six blueliners.  That does open the door for some young defensemen to get a chance though, such as Dennis Cholowski, who was taken with the 20th overall pick in 2016, and Filip Hronek, who had 39 points in the AHL last season.
Florida Panthers
The Panthers have already made one noteworthy cut from their training camp roster by sending Owen Tippett back to the OHL.  The 19-year-old was the 10th overall pick of the 2017 NHL Entry Draft and got a seven-game trial with the Panthers in 2017-18 and there was some hope that he would force his way onto the team this year.  That ended up not happening and the Panthers' roster situation when it comes to forwards might be partially to blame.  They have 13 forwards already signed to one-way contracts, so Tippett would have had to do something fairly special to earn a spot in that environment.
That logjam also contributed to Mark Letestu failing to earn a roster spot after joining the Panthers' camp on a tryout basis.  He has since signed a two-way contract with the Blue Jackets instead.
There might be one forward on a two-way contract that ends up making the opening game roster though: Henrik Borgstrom.  He spent the 2017-18 campaign primarily with the University of Denver, but also got four games with Florida under his belt before the summer.  He's made a good impression during training camp and has the versatility to play any forward position, which certainly makes him an easier sell.  If the regular season started today, it's entirely possible that he would be on the third line with Jared McCann and Denis Malgin.
Montreal Canadiens
Montreal acquired Max Domi from Arizona in exchange for Alex Galchenyuk back in June, but right now neither player is available.  Galchenyuk is dealing with a lower-body injury, but Domi is out because he sucker punched Aaron Ekblad after the Panthers defenseman refused to fight him.  Domi was suspended for the Canadiens' final four preseason games and while that is arguably just a slap on the wrist given that none of those contests count, it does prevent Domi from properly settling in with his new team.  That lack of discipline, especially in an exhibition game environment, also doesn't make for a great first impression.  It's one thing to be gritty, it's another to make a bad decision because you couldn't control your temper.
On a more positive note, Jesperi Kotkaniemi has made a good first impression.  It was something of a surprise when the Canadiens took him with the third overall pick in the 2018 NHL Entry Draft and he wasn't initially expected to be on Montreal's opening game roster, but he might end up forcing his way on there.  In particular, he looked good during Montreal's 5-3 loss to Toronto on Wednesday in what Canadiens coach Claude Julien described as "probably his biggest and best test since the start of training camp."
One other player of note during training camp has been Joel Armia.  Like Domi, Armia was acquired on the trade market – in this case from the Winnipeg Jets – and while he perhaps doesn't get the same amount of attention as Domi, Armia might end up playing alongside him.  Right now it's entirely possible that Montreal's top line will be Armia, Domi, and Jonathan Drouin.  It would be an interesting combination as they are three players that are old enough and have been in the NHL long enough that it feels like a stretch to call them prospects, but it seems reasonable to say that more is hoped for them than what we've seen thus far.  All are former first round picks with Armia being taken the latest out of all of them at 16th overall and yet none of them have done better than Drouin's 53-point campaign in 2016-17.  Perhaps if they do remain the same line, they can help each other find another level.  That's probably the kind of luck the Canadiens would need in order for them to surpass their low expectations going into 2018-19.
Ottawa Senators
The Senators naturally quiet a number of upset fans right now and their recent events have arguably made that worse.  First they traded Erik Karlsson to San Jose on Sept. 13, ending months of rumors.  The fact that he was finally dealt can't be a shock to anyone and it arguably even makes sense given their status as a rebuilding team, but it's still a bitter pill for fans to swallow and it's made worse by the return Ottawa got, which is significant, but perhaps not enough given Karlsson's superstar status.
One item of note that might upset some is the fact that San Jose agreed to give Ottawa a first round pick in the event that Karlsson ends up playing in the Eastern Conference in 2018-19.  That's likely a responsible to Ottawa's decision to trade San Jose to Mike Hoffman over the summer, which then turned around and traded Hoffman to Florida at a profit.  So Ottawa wants to prevent history from repeating itself, but then the question has to be asked: Why would Ottawa need that kind of clause?  If San Jose could theoretically turn around and trade Karlsson to an Eastern Conference team for a better return than what Ottawa was provided, then why didn't the Senators simply trade Karlsson to an Eastern Conference team?  It's entirely possible that Ottawa simply accept the best offer available, but it also might be that the Senators limited themselves to only talking to Western Conference clubs and for them not to simply take the best return available when the stakes are this high for the franchise's future is a questionable decision to say the least.
More recently, Ottawa decided to put Zack Smith on waivers in a move that Matt Duchene, who is on the final year of his contract, described as a kick in the pants.  Senators GM Pierre Dorion said it was a move to send a message to the dressing room that what happened last year wasn't acceptable, but of course, that message would likely carry more weight if the Senators' front office's trades dating back to the 2018 deadline weren't so clearly focused on the future at the expense of the 2018-19 campaign.  For what it's worth, Smith did clear waivers and while Ottawa might ultimately trade him, for now he might still be part of their opening game roster.
If there's a silver lining for the Senators right now, it's Brady Tkachuk.  He made the decision to sign with Ottawa rather than return to Boston University for his sophomore season and it's looking like he might not only make the team, but play a significant role.  He's been seeing ice time with Mark Stone and the duo could have a solid season if they stick together.  Tkachuk only celebrated his 19th birthday on Sept. 16 and we still have to see for certain if he will make the team, but there is potential there for him to be a bright spot in what is otherwise looking like a probable gloomy season for Ottawa.
Tampa Bay Lightning
Lightning fans will definitely want to pay attention to injury reports leading up to the regular season.  While Nikita Kucherov (lower body) and Tyler Johnson (upper body) aren't believed to be seriously hurt, both are questionable for the season opener and obviously they're two big parts of the Lightning's monster offense.
Assuming those injuries don't prove to be a bigger deal than they presently seem, the opportunities they might create are perhaps too short-term to really be of note.  The Lightning do have some fourth-line spots open though and Adam Erne might end up taking advantage of that situation.  He has scored three preseason goals and reportedly made strides in his conditioning over the summer.
Mathieu Joseph, who added 10-15 pounds over the summer, is also in the mix.  He's coming off an encouraging AHL rookie campaign where he scored 15 goals and 53 points in 70 contests.  Of course, we're likely talking about a fourth line position, so his offensive output would be low, but if Kucherov and/or Johnson aren't available at the start of the season, then it might be Joseph that gets added short-term responsibilities.
On defense, Erik Cernak has worked himself into the conversation.  He was paired with Ryan McDonagh during Tuesday's preseason contest and he's impressed the coaching staff.  There's a fair chance he's done enough to stick with the team.
Toronto Maple Leafs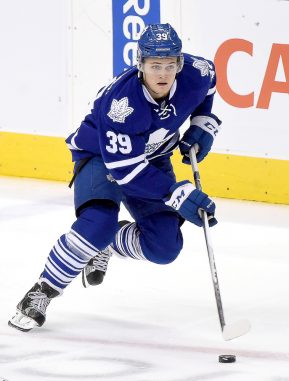 There's a lot of optimism about the 2018-19 Toronto Maple Leafs, but the big question mark right now is William Nylander.  At the time of writing he's still a restricted free agent and it's possible, if not almost certainty at this point, that he will end up missing the Toronto's entire preseason schedule.  He's expected to eventually sign with the Maple Leafs and it will probably be to a long-term extension, but whenever a player misses training camp for any reason, you have to wonder if it will have an impact on his readiness for the regular season.  Even assuming he signed in the period between when this was written and you are reading it, there would still be concerns about him struggling out of the gate in 2018-19 after missing so much prep time.
Fortunately the Maple Leafs have plenty more offense anyways.  Obviously, the Maple Leafs added John Tavares over the summer giving them a second superstar in addition to Auston Matthews, but Mitch Marner is another gem of a player and has looked good in the preseason.  Not that Marner being good is a revelation – he has 130 points in 159 games after all – but there might be another level there, especially if plan to have him play regularly with Tavares works as well as hoped.
It also helps that Tyler Ennis has done well in training camp.  In a sense he's kept Nylander's spot warm by playing alongside Matthews and seeing some time on the second power-play unit.  Of course, Ennis will relinquish that role to Nylander once the latter signs, but it's encouraging to see Ennis step up after enduring two rough campaigns that resulted in him recording just 35 points in 124 contests.  It will be interesting to see how things shake out from here.  Under ideal circumstances for the Leafs, Ennis might even have trouble cracking into their top-nine, but teams don't often get to dress their theoretical best and in the event of injuries during the season, Ennis might be the first choice to get added responsibilities.