The WHL season has been highly competitive with some excellent individual stories wrapped in with some incredible team play.  There was Jayden Halbgewachs' (SJS) chase of 70 goals which he accomplished on the last weekend of the season, Nick Schneider's (CGY) leading the league in minutes played by a goaltender, or any of a number of the impressive rookie seasons that have kept fans engaged all season.  The duel between Swift Current and Moose Jaw has been captivating all season and heated up even more at the trade deadline.  The arms race to get out of the Eastern Division has to be the top story across the league.
With Regina hosting the 100th Memorial Cup in a few months, all eyes have been on the Prairie Province to see how competitive they would be this season while hosting junior hockey's premier event.   Entering into the first round of the playoffs Saskatchewan will be sending four teams into the fray, which is great news, however based on seeding they have all ended up head to head.  Regina looks to be in tough to get to the Memorial Cup in the honest way as a first round trip down Highway 1 to Swift Current looms.  This year's host team could have a month without competitive hockey before the start of the Memorial Cup.
*Note Team stats (GP-W-L-OTL-SOL-PTS), Player Stats (GP-G-A-PTS-PIM)
Eastern Conference:
1E Vs WC 2 Moose Jaw (72-52-15-2-3-109) vs Prince Albert (72-32-27-9-4)
Prediction: Moose Jaw in five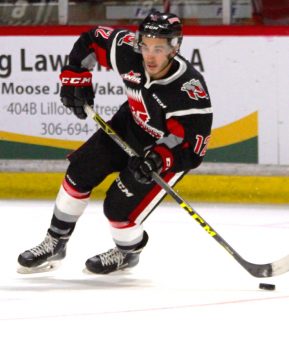 Moose Jaw has been a dominant team wire to wire this year.  They have been ranked in the top 10 for 23 weeks of the season and are the only team in the WHL to eclipse 50 wins.  They are an offensive juggernaut averaging an impressive 4.5 goal per game, they have the league's top scoring forward in the aforementioned Halbgewachs (SJS) (72-70-57-125-12) surpassing expectations with the first 70 goal season in the league since 1998-99 (Pavel Brendl). The team boasts several offensively dangerous forwards in Brayden Burke (ARZ) (61-31-82-113-45), Justin Almeida (72-43-55-98-10), and Brett Howden (NYR) (49-24-51-75-42) who can balance the attack and keep the pressure on all the way down the lineup.  Defensively they added the most productive blueliner in Kale Clague (LAK) (54-11-60-71-43) to help anchor them for a long playoff run. Moose Jaw has been the class of the league for most of the season but down the stretch have lost games to Regina, Red Deer and Prince Albert making them more vulnerable for upset than at any point in the season.
Prince Albert will be riding high into the playoffs after a 9-0-1 stretch enabled them to nip a playoff spot from Saskatoon.  During that stretch they took three points of a possible four from Moose Jaw as well as solid divisional wins over Swift Current and Brandon.  Prince Albert has been playing playoff-like hockey for over a month just to get to in, so the pressure will be off with nothing to lose against a powerhouse team like Moose Jaw.
Cole Fonstad (72-21-52-73-6) has had a great second half of the season and will end the season as one of the most productive draft eligible forwards in the WHL this year.  Jordy Stallard (WPG) (72-44-47-91-26) has been an exceptional player this year, and Winnipeg may have found another late round gem.  A couple of mid-season additions in Regan Nagy (57-25-20-45-53) and Kody McDonald (68-34-32-66-139) have chipped in some nice secondary scoring but they will have to be at their best to give the Raiders a chance of getting through this tough first round match up.
2E Vs 3E Swift Current (72-48-17-5-2-103) vs Regina (72-40-25-6-1-87)
Prediction: Swift Current in five Games
Swift Current poses matchup problems for any team they play against.  Like Moose Jaw they have elite scoring with the likes of Glen Gawdin (CGY), (67-56-69-125-101), Aleksi Heponiemi (Fla), (57-28-90-118-28)), and WJC game winning goal scorer Tyler Steenbergen (ARZ) (56-47-55-102-44) leading the way.  There is a great supporting cast and what may be a difference maker in net in the form of Stuart Skinner (EDM).  In 23 games since joining Swift Current has put has put up a stellar .917 Sv% and a 2.60 GAA.  The team's defensive corps is led by Colby Sissons (NJD) (72-13-58-71-69) and Artyom Minulin (64-13-30-43-26) who both play a physical and abrasive style of game that can get under the skin of opponents.  This team is built to compete against any style of team in the league and has the best shot of taking down Moose Jaw in the East.
Regina has been on fire down the stretch which is great for momentum but tough for the match up.  Holding down the top wild card would have seen them ship out of such a tough division and play Medicine Hat who has struggled down the stretch and looks ripe for an upset.  It was not to be however and Regina's strong play down the stretch has earned them a tough match up with Swift Current.  Regina has a highly competitive team and in other seasons would have had a chance to get to the Memorial Cup the hard way but with the strength against them they will be in tough to escape the first round.  What would it look like for Regina to upset Swift Current?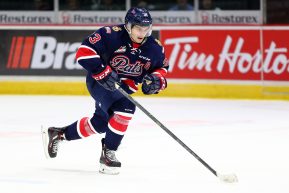 Sam Steel (ANA) (54-33-50-83-18) would have to play lights out controlling the tempo and dictating the play like his line did at the World Juniors.  Perhaps even more important would be the play of Josh Mahura (ANA) (60-22-47-69-42) and Cale Fleury (MTL) (68-12-39-51-58) who, when together on the blueline, give the Pats one of the top pairings in the league.  Even when split up 5 on 5 to help defend against a deep team like they face in the first round they will need to maintain their balanced play for the team to have any success.  Rookie Max Paddock will also need to get on a roll in between the pipes as his strong play down the stretch has made him the probable starter in this first round series. Finally 20 year old Cameron Hebig (EDM) (66-41-49-90-44) will have to deliver a complete game every night.
1C Vs WC2 Medicine Hat (72-36-28-8-0-80) vs Brandon (72-40-27-3-2-85)
Prediction: Brandon In six
Medicine Hat has had the benefit of playing in one of the weakest divisions across the CHL this season.  Despite leading their division they trail both Wild Card teams in terms of point production.  Even with having home ice advantage the Tigers are in tough against Brandon but they do have enough weapons to make this series a coin flip.  Mark Rassell (70-50-30-80-23) is having a great overage season scoring 50 goals for the first time in his career.  That coupled with the impressive offensive production of undersized defender David Quenneville (NYI) (70-26-54-80-58) who leads all WHL defenseman in goals and points will have to take their games to another level to push Medicine Hat through this first round match up.  Draft eligible Ryan Chyzowski (72-21-31-52-28) has also had a strong season while playing on the second line.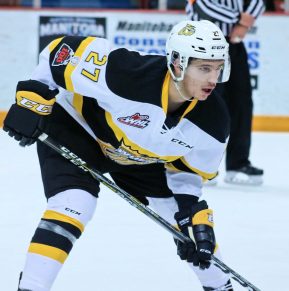 Despite trading Kyle Clague (LAK) to Moose Jaw at the deadline there is still plenty of production in this line up to be dangerous. Undrafted Ty Lewis (COL as a UFA) (70-44-56-100-60) and Stelio Mattheos (CAR) (68-43-47-90-81) have had great seasons and can do some real damage in the postseason.  With two draft eligible forwards adding some secondary scoring in Luka Burzan (72-15-25-40-20) and Cole Reinhardt (68-19-15-34-40) they should be deep enough to compete with Medicine Hat.  Defensively there was a big hole with Clague out but a couple of rookies have stepped in and had a positive impact. Chase Hartje (58-3-22-25-18) has seen an increased role since coming over from Moose Jaw while 2001 born Braden Schneider (66-1-21-22-16) has been quietly impressive helping Brandon to a 7-3 record over their last 10 games as they head into the playoffs.
2C Vs 3C Lethbridge (72-33-33-6-0-72) Vs Red Deer (72-27-32-10-3-67)
Prediction: Red Deer in six
Lethbridge boasts some highly talented youngsters who continue to develop nicely while gaining valuable experience. Calen Addison (68-11-54-65-53) is dynamic young skater who is on the cusp of being a first round pick this year.  Dylan Cozens (57-22-31-53-20) has been a solid player at both ends of the ice especially considering the fact that as a 2001 born rookie he is lining up against guys two and three years his senior.  But the real straw that stirs the drink for Lethbridge is Jordy Bellerive (PIT) (71-46-46-92-82).  He plays a physical, hard-working style of game that creates plenty of offensive zone time where he is a clinical finisher.  To have success this time of year they need one or two depth players contribute at a higher level, perhaps Jake Elmer (70-18-19-37-46) could be that guy for Lethbridge this year.
Red Deer has united the three best forwards they have giving them a formidable top line that can compete with most teams.  Centered by Kristian Reichel (63-34-23-57-32), with wingers Mason McCarty (69-38-36-74-82) and Brandon Hagel (BUF) (56-18-41-59-45), the top line has been stellar since Christmas.  Defensively two players stand out and both are eligible for this year's draft.   Alexander Alexeyev (45-7-30-37-29) is a big, strong defender who skates well and has nice vision and puck handling skills that makes him a first round candidate.  Dawson Barteaux (64-3-29-32-22) is a good skater who passes the puck well and looks to go in the back half of the draft.  Early into the New Year Red Deer trailed Edmonton, Calgary, and Kootenay, and was well out of any playoff conversation but winning 10 of 15 down the stretch, including a four game sweep through BC, has ensured that they will be there and in good form upon arrival.
Predictions Second round and beyond:
If things unfold as expected Moose Jaw and Swift Current will play one another in the second round which could very well be the best series in all the CHL playoffs let alone the WHL.  I expect Swift Current to beat Moose Jaw based on their incredible depth, overall defensive game and higher end goaltending. In the Central division it seems likely that Brandon makes short work of both of their Central opponents, but they will be overmatched in the conference final, a Swift Current victory.
Western Conference:
1US Vs WC 2 Everett (72-47-20-2-3-99) Vs Seattle (71-34-27-8-2-78)
Prediction: Everett in five
Everett boasts the largest X-factor player in the entire league, in netminder Carter Hart (PHI). He leads the league in most statistical categories including save percentage (.947), Goals against average (1.60), and shutouts (7).  Even on the rare occasion that his team does not play well in front of him he can still steal a game.  Hart is not the only reason for team success though as Patrick Bajkov (FLA) (72-33-67-100-56) recently signed an entry level contract after an impressive season.  Also contributing offensively is Riley Sutter (68-25-28-53-70) who is draft eligible this year, Garrett Pilon (WSH) (69-34-46-80-48), and Matt Fonteyne (72-35-53-88-22) who could well find himself with a pro deal by the end of the summer.  With a team that plays a sound defensive game and has so many steady offensive contributors expect them to go far.
Seattle has played Everett tough this year despite only getting two wins in seven attempts.  In only one game did they lose by more than a goal, and only once did Everett get four goals in seven games head to head.  That sort of effort will be required to hang tight game to game.  In a series of one goal games a little puck luck could help beat the top team in the Western Conference.  Veteran players like Nolan Volcan (70-32-44-76), Neuls Donovan (71-22-54-76-48), and Zack Andrusiak (71-35-38-73-20) will have to find a way to score while Austin Strand (LAK) (68-25-38-63-75) will be relied on heavily on the back end as his 25 goals was second in the league by defenseman. Seattle's magic number is three.  If they can get three goals past Hart they are 2-0 this season.
1BC Vs WC1 Kelowna (72-43-22-5-2-93) Vs Tri-City (71-37-25-8-1-83)
Prediction: Kelowna is six
Kelowna has an impressive roster from top to bottom with some of their talent that is not even draft eligible until 2019. Kole Lind (VAN) (58-39-56-95-65), Dillon Dube (CGY) (53-38-46-84-52), and Cal Foote (TBL) (60-19-51-70-46) start off an impressive cast of players each more than capable of creating offense while keeping pucks out at the same time.  Kyle Topping (66-22-43-65-56), draft eligible in 2018, is another forward who stands out with his near 1.0 point per game production.  Cal's younger brother Nolan Foote (50-13-27-40-31) is yet another offensive weapon and he will not be eligible until the 2019 draft but he has shown some high end offensive tools.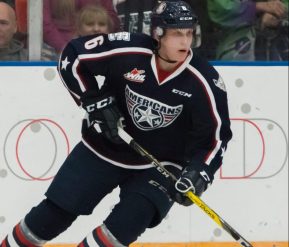 Tri-City has had some struggles with injuries to top players this year. Michael Rasmussen (DET) (47-31-28-59-40) missed nearly 1/3 of the season while Juuso Valimaki (CGY) (42-14-29-43-32) has managed to get into just 42 games.  Regardless, both look healthy as they enter the playoffs.  Tri-City has a dynamic blueline with three of their top eight scorers coming from their back end.  Jake Bean (CAR) (56-11-35-46-22), who was added at the deadline, Dylan Coghlan (VGK) (69-17-46-63-65), and the aforementioned Valimaki are all big time contributors to the Americans success.  If the likes of Morgan Geekie (CAR) (67-30-53-83-32), and overage player Jordan Topping (71-38-41-79-56) are able to keep up their scoring rates from regular season they will have more than a puncher's chance against Kelowna.
2BC Vs 3BC Victoria (72-39-27-4-2-84) Vs Vancouver (72-36-27-6-3-81)
Prediction: Victoria in six
A short ferry ride is all that separates these two team geographically and even less separates them on the ice.  Both have diminutive but dynamic goal scorers.  Victoria boasts Matthew Phillips (CGY) (71-48-64-112-36) while Vancouver sports Ty Ronning (NYR) (70-61-23-84-47).  Both teams have solid offensive depth although the Victoria looks to run a little bit deeper there. Between the pipes each team has a veteran goalie with a save percentage above 0.910 and a goal's against right around 3.00.  Tyler Benson (EDM) (58-27-42-69-39) has been excellent when healthy for Vancouver but the deciding factor in the match up could be the play of 20 year olds.  If Tyler Soy (ANA) (66-36-56-92-42) and Chaz Reddekopp (LAK) (46-7-24-31-42) are able to out produce Ronning and Brennan Riddle (67-1-11-12-48) then Victoria looks to make it out of this closely contested first round match up.
2US Vs 3US Portland (71-44-22-1-4-93) Vs Spokane (71-40-25-3-3-86)
Prediction: Portland in seven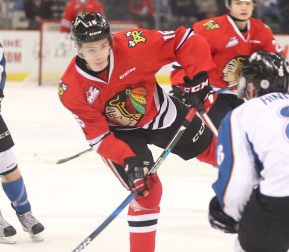 Portland's offence is not quite as deep as the top teams from the East but having six players averaging right around a point per game or better is a tough match up for anyone.  Cody Glass (VGK) (63-37-64-101-24) has paced the offense all year bringing his consistent effort and excellent playmaking skills to a team with plenty of finishers.  Skyler McKenzie (WPG) (71-46-40-86-54), Kieffer Bellows (NYI) (55-40-33-73-63) and Joachim Blichfeld (SJS) (55-24-32-56-51) have all produced at a high level this season on his wings at different times of the year.  Their back end boasts two elite level puck movers in Henri Jokiharju (CHI) (62-12-59-71-14) and Dennis Cholowski (DET) (68-14-52-66-32).  These two help them transition the puck quickly and make their offense even more explosive.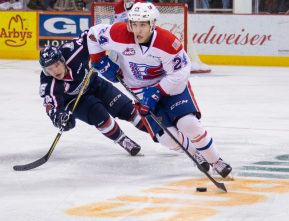 Spokane looks like the banana peel that everyone treads lightly around in the first round.  Elite skating and dynamic playmaking defender Ty Smith (69-14-59-73-30) has led this team offensively all season and is a lock to be the top player taken from the WHL in this year's draft.  Since the WJC Kailer Yamamoto (EDM) (40-21-43-64-18) has elevated his game and the entire team has benefited.  Both Jaret Anderson-Dolan (LAK) (69-40-51-91-25) and Hudson Elynuik (CAR) (71-31-55-86-78) have been the most rewarded as they sit one and two in team goals.  In addition to that, they have four other players with 20 or more goals across the team giving them balance and depth for a long series.  If there was a team in the US division that could score with Portland over a seven game series it would be Spokane.  While they lost the first five regular season match ups against Portland they have won the last two, both in convincing fashion, 6-3 and a 9-3 performances.
Predictions Second round and beyond:
The Western Conference is more wide open than the East where Swift Current and Moose Jaw stand out well above the rest.  Everett's total team commitment to defense has them as my favorite to come out of the West as their stingy goaltending has the potential to shut down any high scoring offense they may face.  I see Kelowna handling either of Victoria or Vancouver but as long as Carter Hart is healthy they would be hard pressed to beat Everett in the Western Final.
A WHL final with Everett and Swift Current has a number of interesting storylines as both clubs have not been traditional WHL powerhouses but have recruited and drafted well over the past few years.  Two of the top goalies in the WHL going head to head, a chance to test the old adage that defense wins championships, and the story book ending as Tyler Steenbergen scores the winning goal in another big Championship game would really round out what has been an excellent 2017-2018 WHL season.