It's shaping up to be a fairly strong draft for centers. There may be at least 11 pivots with top-two upside.
Nico Hischier, Nolan Patrick, Michael Rasmussen, Casey Mittelstadt, Elias Petterson, Martin Necas, Maxime Comtois, Gabriel Vilardi, Ryan Poehling, Lias Andersson, Cody Glass.
Add in Shane Bowers, Mackenzie Entwistle, Stelio Matheos and Robert Thomas...it's not inconceivable that half of the top 20 and perhaps even half of the top 30 selections are pivots.
LIVING ON TIMRA TIME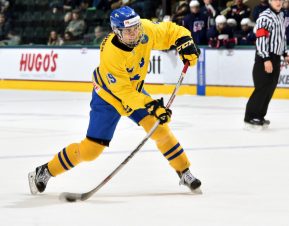 Scouts are going to be spending a lot of time watching Timra the rest of the season as there are two Swedish delights toiling for the Allsvenskan powerhouse. Elias Petterson is leading the league in scoring, and it's no fluke. He's also looking after his duties in his own end..it would not surprise me if by draft day he's the top Swede and a top-five pick. Jesper Boqvist may well be the biggest draft riser. Since joining Timra he has been superb...a slick skater and terrific creator. Don't be surprised if his name is called in the top 25. If I'm with the Swedish U-20 management team I'm inviting Petterson, Boqvist and Dahlen to the WJC and keeping them together on a line.
KOLE MINING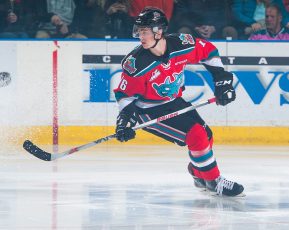 Kole Lind is making a strong case to be a first-round pick. Every time I watch him he's been a dangerous offensive threat. It's no shock that he's leading Kelowna in scoring. Smart, good puck protection skills, effective shot and consistent work ethic. I've talked to some scouts recently who look at him as a first-round possibility..as do I.
THE HAGUE CONTENTION
Perhaps there has been no sharper drop in the draft rankings than Hague's. The hulking Mississauga blueliner was once being touted as a top-five candidate, the only thing for me that kept him in the first round was his impressive production early on in the season, particularly the goal scoring. Unfortunately, the own-zone brain cramps and concerns with his skating were always present, and have only been exacerbated in the past seven games when he has gone pointless and been -7. The closer he's studied, the less he looks like a top 30 prospect.
QUICK ONE-TIMERS
- Curious to see if Kristian Vesalainen (HPK-Fin) shows some finish at U20s. Willing to give him a pass vs. men at this age but the U20 will be important for him IMO if he wants to be a top ten guy.
- Urho Vaakanainen is playing 16:03 per game with JyP.... & Miro Heiskanen (HIFK-Fin) is averaging 19:40 per game..2nd in D scoring on team with 3g 4a..... Awfully impressive for 17-year-olds.
- 2g 3a for Cale Makar on Monday with the Brook Bandits of the AJHL and seven points on the weekend...he is now 8th in AJHL scoring with 12g 25a in 28 games and tied for fifth overall in PPG. Only dman in the top 40 of league scoring. He was a large part of the Canada West team in last year's World Junior Challenge, but this year it's expected he will be dominant.
- Timothy Liljegren (Rogle-Swe) played 18 minutes in his first game back from bout of mono....11 minutes in his 5th game...5 minutes today - played on 4th pairing.
- Jakub Galvas has played 16 games with Olomouc in the senior Czech league... impressive enough for a dman who doesn't turn 18 until June
- Typical Owen Tippett (Mis-OHL). Just when he's starting to drive you crazy he scores a goal on a rocket and pings another off the post on the same shift.
- Can't help but notice Adam Fox with 15 assists in his first 11 collegiate games - leading all Division 1 blueliners with a 1.45 PPG.....as a rookie dman. Wow. One would almost think he should have been drafted higher.
WHO'S HOT/COLD AMONG DRAFT ELIGIBLE PROSPECTS (CHL EDITION)
Issac Ratcliffe (Guelph) - Has goals in 3 straight games
Dmitri Samorukov (Guelph) - no points in last nine games
Albert Michnac (Guelph) - After 5 goals in 6 games has none in last 7
Robert Thomas (London) - 2G, 3A, +5 on Sunday - 1.11 PPG on season
Alex Formenton (London) - His goal on Friday was first in 8 games
Nicolas Hague (Mississauga) - 1G, 1A Sunday - no points, -7 in previous 7 games
Jonah Gadjovich (Owen Sound) - 3g 4a in last 5 games
Nick Suzuki (Owen Sound) - 12 goals 23 pts in last 15 games
D'Artagnan Joly (Baie-Comeau) - 9 pts in last 7 games
Pierre-Olivier Joseph (Charlottetown) - 15 pts in last 12 games
Nico Hischier (Halifax) - 17g 34 pts in last 16 games
Ivan Kosorenkov (Victoriaville) - 10g in last 7 games
Maxime Comtois (Victoriaville) - 3g 7a in last 18 games
Kole Lind (Kelowna) - Goals in 6 straight games going into Brandon game
Cal Foote (Kelowna) - 10 points last 11 games
Josh Brook (Moose Jaw) - 7 points in last 8 games after 9 in first 18
Henri Jokiharju (Portland) - 3g 4a in last seven after 1g 9a in first 23 games
Jake Leschyshyn (Regina) - 2 assists in last 8 games
Juuso Valimaki (Tri-City) 8g 5a in last 9 games